---
Mumia Abu-Jamal
Everybody's favorite black guy in prison, Mumia Abu-Jamal, was originally named Wesley Cook. In 1968, at the age of 15, Cook was one of the founding members of the Philadelphia chapter of the Black Panther Party.

As the Lieutenant Minister of Information, Cook expressed some strident anti-police sentiments in The Black Panther newspaper. In 1970 he wrote: "I for one feel like putting down my pen. Let's write epitaphs for Pigs!" He left the Panthers later that year, citing infighting within the organization.

He changed his name and went on to become a part-time reporter for the local public radio station. For his reporting, Philadelphia magazine recognized Jamal as one of the "81 people to watch in 1981." Ironically, it was in December of that year that he murdered a police officer.

Yes, Mumia is a cop killer. He did it. He's guilty. Really.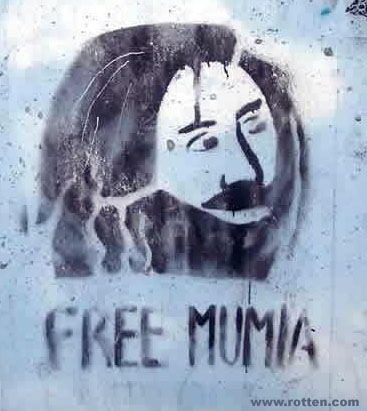 It happened more-or-less like this:
In the early hours of December 9, 1981, Mumia parks his taxicab in a parking lot at the corner of 13th and Locust. He starts filling out his log sheet. Soon thereafter, a Philadelphia police cruiser pulls over a blue Volkswagen beetle directly across the street.
After a while, Mumia looks back and checks out the traffic stop. He immediately notices two things: one, the police officer is now grappling with the vehicle's driver; and two, that driver is Mumia's brother Billy Cook.
Struggling to subdue Billy, the officer resorts to banging on his skull with a 17" metal flashlight. Perhaps Mumia sees this, perhaps not. In any event, he gets out of his cab and crosses the street.
A moment or two later, more Philadelphia PD units arrive on scene. Fellow officer Daniel Faulkner, badge #4699, is lying dead on the sidewalk. There's a .38 caliber bullet in his back and another lodged in his brain. Both were fired at close range.
Billy Cook's face and neck are bloody from the flashlight.
Mumia is slouched over the curb with a bullet from Faulkner's service revolver stuck in his abdomen. Mumia's shoulder holster dangles empty under his arm.
A .38 pistol is lying on the ground a few feet away, all its ammo spent. The handgun indisputably belongs to Mumia. He bought it in 1979 and it was registered in his name. Later at trial, the shopkeeper who sold him the gun will produce a receipt bearing the gun's serial number and Jamal's signature.
What we have is this: a dead cop shot dead with Mumia's gun. Mumia shot with the cop's gun. A selection of witnesses willing to testify for the prosecution. It's all pretty straightforward.
Today Mumia wants a new trial, and he probably deserves one. Not because he's innocent of the charges, but because his original trial was pretty well rigged.
For starters, the cops committed perjury. Big time. They concocted a story about Jamal having confessed at Jefferson Hospital, wherein he was supposed to have shouted -- twice -- in the presence of hospital security and police officers: "I shot him! I hope the motherfucker dies!" But none of the 14 officers who were present in the emergency room made any mention of this confession until more than two months after the fact. Quite the contrary, in fact. One contemporaneous report (written by one of the officers): "we stayed with the male at Jefferson until we were relieved. During this time, the Negro male made no comments."
Not helping matters was Jamal's repeated insistence that he be allowed to represent himself, or have a controversial Philadelphia activist named John Africa as a replacement for his court-appointed defense counsel.
Mumia's defense attorney had to attack the gun evidence. It was just too strong to ignore. So he capitalized on a note made by the medical examiner which referred to Faulkner's wounds as having been created by a .44 caliber bullet. It is not possible for this kind of ammunition to fit in Jamal's gun. But the coroner explains that this was only a preliminary guess and had been corrected in the final draft of his report.
The annoying thing is that undoubtedly there are genuinely innocent people on death row. Mumia Abu-Jamal is simply not one of them.
---