---
Carl Panzram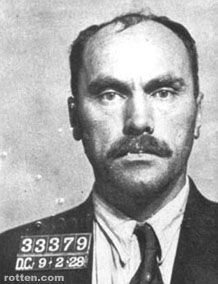 Aliases: Jefferson Baldwin, Jeffrey Rhodes, John King, John O'Leary.

"In my lifetime I have murdered 21 human beings, I have committed thousands of burglaries, robberies, larcenies, arsons and last but not least I have committed sodomy on more than 100 male human beings. For all these things I am not in the least bit sorry."

"I sat down to think things over a bit. While I was sitting there, a little kid about eleven or twelve years old came bumming around. He was looking for something. He found it too. I took him out to a gravel pit about one quarter mile away. I left him there, but first committed sodomy on him and then killed him. His brains were coming out of his ears when I left him, and he will never be any deader."

Wrote a 20,000 word book/confession.
Timeline
| | |
| --- | --- |
| 28 Jun 1891 | Carl Panzram born, Minnesota. |
| 1903 | Sent to reform school at Minnesota State Training School, Red Wing, Minnesota. |
| 1911 | With an Indian companion, attacks a man and robs him of $35. Later he says, "I figured that as I had such a good chance of that, I would commit a little sodomy on him... he is still there, unless the buzzards and coyotes have finished the last of him long ago." |
| 1922 | When asked in Washington, DC City Jail, why kill a child: "I hate all the fucking human race. I get a kick out of murdering people." |
| 9 Aug 1923 | Sodomizes and kills a young boy, who was begging. Of all his murders, this is Panzram's favorite. The boy's body is discovered two days later, and is never identified. |
| 6 Oct 1928 | Confesses to the murder of 9 August 1923: "If there is anything more that you want to know about this case that I can tell you, I will... I have killed a number of people in different places and some of the facts escape my memory." |
| 26 Aug 1923 | Arrested as "John O'Leary" for breaking and entering the Larchmont Train Station. |
| Jul 1928 | Discharged from Dannemora Prison. |
| 26 Jul 1928 | Strangles Alexander Uszacke in Philadelphia. |
| 2 Sep 1928 | Arrested. |
| 12 Nov 1928 | Trial begins. Sentenced to 25 years. |
| 1 Feb 1929 | Arrives at Leavenworth. |
| 26 Mar 1929 | Written request: "I want that job because I am doing a long time and I am an old crank and I want to be by myself. I am a cripple and the job I have now I don't like, standing on my broken ankles bothers me. I am very truly, Carl Panzram #31614." |
| 20 Jun 1929 | While in Leavenworth, Panzram kills Robert Warnke (who is not a prisoner, and is Panzram's supervisor), beating him to death with a large iron bar. After guards arrive, he returns calmly to his cell. |
| 14 Apr 1930 | Trial begins for Warnke's murder. |
| 5 Sep 1930 | Hanged at 6:30 am. Last words: "Hurry up you Hoosier bastard. I could hang a dozen men while you're fooling around." |
---