---
Javed Iqbal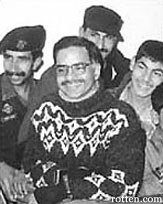 Sodomized and killed 100 boys in Pakistan. All of the boys were street urchins which he drugged, molested, strangled and then dissolved in vats of acid, keeping their shoes and clothes as trophies. About halfway through, began a photodocumentation of his efforts, which he sent to police when the goal of 100 was attained. As nobody in Islamabad notices when a street urchin goes missing, Iqbal claims he could have achieved 500 had he the desire.
"I am Javed Iqbal, killer of 100 children... I hate this world, I am not ashamed of my action and I am ready to die. I have no regrets. I killed 100 children."
Javed means immortal; Iqbal means desire. This gentleman is not to be confused with Javed Iqbal, cricket player, or Javed Iqbal, surgeon, or several other prominent Javed Iqbals in Pakistan.
Timeline
| | |
| --- | --- |
| Jun 1998 | Arrested, for procuring the services of two boy prostitutes. Quickly freed on bail. |
| 30 Dec 1999 | Surrenders to Jang, Pakistan's largest circulation Urdu newspaper, Islamabad. |
| 16 Mar 2000 | Judge Allah Baksh decrees: "Javed Iqbal has been found guilty of 100 murders. The sentence is that he should be strangled 100 times... His body should be cut into 100 pieces and put in acid, as he did with his victims." |
| 8 Oct 2001 | Javed Iqbal and accomplice Sajid found strangled in jail. Ruled a suicide, the deaths were very suspicious and signs of a beating were present. Guard Iftikar Husain was "asleep" when the deaths occurred. |
---