---
Chris Farley
Christopher Crosby Farley (Feb 15, 1964 -- Dec 17, 1997)

The comic portfolio of Chris Farley is not everybody's cup of tea. His characterizations often consisted of bellowing blowhards or perspiring ne'er-do-wells who exploited their larger-than-life carriages with a histrionic, physical intensity not seen since John Belushi, John Candy, or Jackie Gleason.

After studying acting and communications at Marquette University, Farley joined the Second City Theater group, where he was discovered by producer Lorne Michaels. He would soon be developing sketch comedy and characters for Saturday Night Live: motivational speaker Matt Foley (thrice divorced, living in a van down by the river), the fanatical Chicago Bears enthusiast-- even a blonde bobbed Gap girl who enjoys seasoned curly fries at a strip mall food court. One of his best loved characters was that of a nervous talk show host with low self-esteem:

FARLEY
Y-you remember? when? y-you were with The Beatles?

PAUL MCCARTNEY
Yeah.

FARLEY
That was awesome!

Then a pause, after which Farley hits himself in the head and pulls out his hair for asking such an inane series of questions.

He portrayed a flabby, topless Chippendales performer whose waves of fat undulated wildly across his entire body as he danced alongside Patrick Swayze. He could imitate nearly any celebrity of oversized stature: Mama Cass, Jerry Garcia, Meat Loaf, Tom Arnold. He even performed an impersonation of House Speaker Newt Gingrich on Capitol Hill-- with Gingrich himself looking on. In another bit he played a restaurant customer who's just been informed the coffee he's drinking is actually Folgers Crystals. He pauses, flips over a table and screams, "You lied to me!" and proceeds to destroy furniture.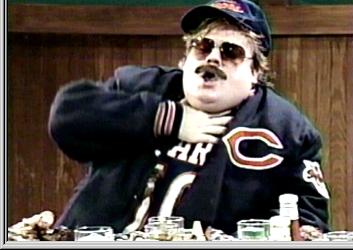 Comparisons to John Belushi were commonplace. Both performers shared a love of drugs, alcohol, overeating and indulgence. Farley loved humor, and he enjoyed the company of people who loved to laugh. He needed acceptance, and he found exactly that sort of audience by making friends with people capable of nursing his drug habit.
Stories of Farley's substance abuse and party lifestyle are well known. Drug counselor Dallas Taylor says Farley was one of the worst addicts he'd ever met. "There was a big part of him that believed in God, but unfortunately he believed he wasn't going to be forgiven for all the things he did."
Eventually it came time for Lorne Michaels to give Farley an ultimatum: leave the show and go into rehab. Farley had a year left on his contract with Saturday Night Live, but was let go as the show's cast underwent a series of rapid cast shuffles. In his brief movie career that was to follow SNL, he continued to bellow and fall down a lot.
Seven years later, Farley returned to Saturday Night Live as a host. His voice was unbearably hoarse, his face shined with perspiration, and his massive size was visually alarming. Entertainment Weekly remembers: "there he was, wrestling with his demons for all of America to see. The result was a eerily prescient and morbidly ominous train wreck played for laughs."
A tabloid reported that Farley had been drinking heavily during the week of rehearsals. He needed an oxygen tank. On the set of Almost Heros, he required almost constant hands-on caretaking. Farley was enthusiastically selected as the voice of Dreamworks' Shrek-- but the studio was unable to secure an insurance company willing to bond him. This news hurt.
Saturday Night Live alumnus David Spade was respectfully regarded as the Stan Laurel half of their oft-paired comic duo. They wrote and developed material together, and they were great friends. He often tried talking Farley into slowing down:
"I'm not being callous, but I knew I was helpless. Some of the idiot people he was around got on my nerves. Half the time he partied with fans he'd meet at a bar because they were the only ones who would stay up until 4 am on a workday. I much preferred hanging with Chris alone. I tried to give him the old it's not worth it and come on, you shouldn't be partying so much. He would always sit and listen to the lectures. He'd nod and agree. I thought I was so smart and that I'd articulated my case well, then he'd turn around and do whatever he wanted. I realize he played me."
Farley had grown depressed and uncomfortable inside his body, but he was afraid to lose weight. He thought his largeness was expected of him by those wanting to see the "funny fat guy." Unfortunately, he couldn't attract members of the opposite sex, and he spent a great deal of money on hookers and escorts. Women didn't want to be with Farley when the lights were on-- and this more than anything else made him grow tired of being the buffoon.
"You know, I've experienced Fatty Falls Down three times in movies now, and I know people come to see my movies for that; I'm very grateful, but I would like to explore a little bit more. I'd like to do something a bit more subtle, something more dramatic."
For a long time, he'd been researching the life and times of Fatty Arbuckle an overweight celebrity from days gone by who'd led a remarkably similar life of partying, comedy, and tragedy. He began to develop a screenplay rich with humor and pathos, but nothing came to fruition.
At age 33, Farley weighed two hundred and ninety pounds. He was found dead of a drug overdose in an apartment unit of the John Hancock building in Chicago, clad only in pajama bottoms. A white froth had gathered around his mouth, and blood-tinged fluid seeped from his nose.
---