---
Paula Poundstone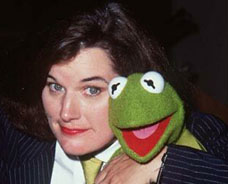 Paula Poundstone was born on December 29th, 1959, in Birmingham, Alabama... but you don't care about that. You don't even care that she was a foster child and got her feature film debut (and really, only feature film) in the 1984 flick Hyperspace. Her squeaky-clean comedy act, her many appearances on The Tonight Show, her own short-lived Paula Poundstone Show in 1993... even her recurring roles on various sitcoms elicit nothing more than a derisive "meh."

No, all you care about is that in June of 2001, she was arrested for various charges representing endangerment of foster and adopted children under her care.

And you don't even care about that; you really just care that somehow, this gravelly-voiced commedienne with years of on-the-fringes appearances and an act of being incredulous and softly snide about politics and life, was charged with committing lewd acts on a girl under the age of 14.

But let's cover with the child endangerment charge first. Poundstone, besides acquiring a couple foster children and adopting three of her own, had also acquired a serious drinking problem. One day she decided to go get her kids some ice cream, and took them along, not noting her own blood-alcohol level. Whoops! Witnesses at the ice cream parlor were taken in enough by her demeanor and behavior to call in a complaint with the police. Hence, the "endangerment" problem.
Poundstone, to her credit, immediately took responsibility for the situation, checking herself into rehab even before the case went to court. Her lawyer later claimed that negotiations had begun to settle or work out the cases of endangerment and lewd acts, but the police went ahead and arrested her anyway, putting her before the court (and the world) on June 27, 2001. She was freed on $200,000 bail, and after giving a one-line sentence outside the court about the truth coming out, went into seclusion (and back into Promises, the Malibu rehab clinic she had checked into.)
After six months at Promises, a dozen psychiatric evaluations, and an agreement to go to ongoing counselling and AA meetings, she was given supervised meetings of her adopted children, and full custody of them a year later. The lewd acts charge, that eyebrow-raising shock out of her otherwise minor case, was nowhere to be found, as it was dropped by the prosecution before her plea agreement.
The foster children are gone (and her settlement disallows her from having any more) but the charge against her for lewd acts stems from one of the two she had under her custody. Unfortunately, there's no easy way to find out what exactly the accusations were.
No less a reputable news organization as the National Enquirer weighed in with their own "exclusive", that the charges were spurious complaints by Poundstone's foster daughter to get back at her mom for the usual crimes of disallowing her from going out. This speculation (which it is at best) would explain the gag order issued by the judge to all principals in the case during Poundstone's plea agreement; no sense in scarring the child just for telling a fib that ruins her guardian's reputation and means of support.
But this same prohibition means that Poundstone must continue to work under a cloud, unable to tell the "real story" about her arrest and conviction, and leaving her to pick up the pieces of her career, including appearances on the NPR radio show "Wait, Wait, don't tell me" and the occasional club date. Certainly, an inauspicious final act to a ... career.
Timeline
| | |
| --- | --- |
| 29 Dec 1959 | Paula Poundstone born in Birmingham, Alabama. Her family later relocates to Sudbury, Massachusetts. |
| 70's | Poundstone is put into foster care in Massachusetts. She describes the situation in an Interview in the Christian Science Monitor: "No one would describe my childhood as love-filled. I was in a residential program, and in my teens some good folks in Massachusetts took me into their home. They already had seven kids of their own, and their small duplex had only one-and-a-half baths, but we really bonded. Today, one of their daughters, Renee, is a dear friend." |
| 70's | Poundstone drops out of high school. |
| 1979 | Poundstone starts performing stand-up comedy in Boston. |
| Early 80's | Poundstone does what most sane comedians in Massachusetts do, and moves to San Francisco and later Los Angeles. |
| Early 80's | Poundstone performs at the same clubs as Robin Williams, who introduces her to his management company, Morra, Brezner, Steinberg & Tenenbaum. |
| 1984 | First (and currently only) feature film performance: Hyperspace (European Title: Gremloids) |
| 1992 | First HBO special, Cats, Cops and Stuff. Wins a Cable ACE award for her performance. |
| 1992 | Poundstone begins doing a series of "Political Correspondent" spots for The Tonight Show, raising her profile considerably. |
| Mar 1993 | Poundstone begins penning "Hey, Paula!", a regular column in Mother Jones magazine. |
| 1993 | The Paula Poundstone Show, a variety show with Poundstone as hostess and ringleader, debuts on Saturday Nights at 9:00pm on ABC.. and is promptly cancelled after two episodes. Noteworthy cross-cultural note: Among the writers on the Poundstone Show staff is Mystery Science Theatre 3000 co-creator Joel Hodgson. |
| 1997 | Poundstone adopts two daughters: Toshia (4 years old), and Allison (3 weeks old). She later adopts a boy, Thomas (11 Months) |
| 1998 | Poundstone ends columnist/author relationship with Mother Jones Magazine. |
| 23 May 1999 | Polk Online Interview. On adopting vs. having her own children: "I don't need anybody to look like me. I don't have any desire to go through the birth experience. Sorry, you know, I don't feel that I'm unwhole if I don't do any of that." On adopting her third child, a boy: "The most kids I've had in my house at one time have been three, although I'm actually hoping to get a fourth. My goal is to shove myself over the edge." |
| Sep 2000 | Becomes regular panelist on TV show To Tell the Truth. Stint ends after one season. |
| 3 Feb 2000 | Interview in Las Vegas Sun: "I'm a deadly dull, irritable woman in real life." |
| 6 Jun 2000 | Poundstone drives her children to an ice cream parlor. Her behavior and demeanor at the parlor cause witnesses to report her to the authorities for drunkenness and concern for the welfare of her children. |
| 13 Jun 2001 | Estimated. Poundstone voluntarily checks herself into Promises, a rehab clinic in Malibu, California. Poundstone has two nannies and a personal assistant on staff to take care of her children while she's away. (Her lawyer claims negotiations were underway before her arrest; it is likely she checked herself in as a pre-emptive goodwill move.) |
| 27 Jun 2001 | Poundstone is arrested on three counts of committing a lewd act on an unidentified girl under the age of 14 and one count of child endangerment (the ice cream parlor incident). She faces thirteen years and four months if convicted. Bail is set at $200,000, which she pays and is freed the same day. |
| 11 Sep 2001 | Poundstone's preliminary hearing is postponed for one day due to the World Trade Center attacks. |
| 12 Sep 2001 | At her preliminary hearing, Poundstone pleads no contest to one count of felony child endangerment and one misdemeanor count of inflicting injury on a child. She is given five years of supervised probation, as well as a mandated 180 days at Promises. Prosecutors agree to drop the lewd act charge as well. The Judge bars all principals from discussing the case in public, leaving questions as to the nature and situation of the lewd act. |
| 13 Nov 2001 | Busted! Poundstone is brought before judge Bernard J. Kamins after she is discovered taking unauthorized drugs at Promises Rehab Center, where she is serving out her 180 day sentence. The judge briefly throws her in Los Angeles County Jail for a number of hours before releasing her back to the rehab center. |
| 5 Dec 2001 | Poundstone is granted supervised visits with her adopted children; her foster children have long since been assigned new foster homes and she is barred from taking any more in the future. |
| 12 Dec 2001 | The E! True Hollywood Story: Paula Poundstone, debuts. "Poundstone's existence seemed to be one full of selfless acts of charity: caring for troubled children as a foster parent and eventually adopting three children of her own. She had a thriving career, too. But that would all change when a trip for some ice cream with her kids turned her world upside down." |
| 14 Dec 2001 | An Evening of Comedy with Paula Poundstone plays at the Rio Theatre in Santa Cruz, CA. ($17) Example jokes: "This is my first night performing since I've been a criminal... It's kind of strange to see this many seats not in a circle." Her description of her crime: "I drank little cheap white wines and went for an ice cream on the wrong day." |
| 9 Dec 2002 | Poundstone has her adopted children returned to her by the court. The judge praises her rehabilitation; she is still to serve out the remainder of her 5 year probation. "I made mistakes and I broke the law and I'm more than willing to pay a price for that," she said. "But there's a price beyond that that my children have paid, and that's not what was supposed to happen." |
| 12 Dec 2002 | E! Online quotes Rich Pfeiffer, Poundstone's current attorney, as saying his client has been clean and sober for 18 months. This apparently does not count the arrest in November 2001 for violating probation by... taking drugs. |
---