---
Elvis Presley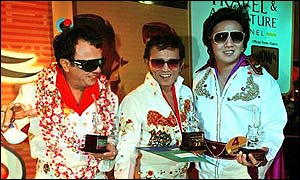 Fucking Elvis impersonators! You can't walk 100 yards in Las Vegas or Hollywood without being accosted by some goddamned fool wearing a white jumpsuit, black wig and sunglasses. His only aim in life is to make people cringe. So he sings a little, shakes his hips, and maybe pantomimes a few Kenpo karate moves. Talk about hackneyed. Yeah, yeah -- it was cute when Andy Kaufman did it, but everybody since then has just been tedious. To top it off, nowadays they bristle at the term "impersonator," preferring to be called tribute artists. Okay, whatever. Like that's going to look any better on those unemployment forms.

Even more annoying are the conspiracists who are convinced that Presley's death was staged. It simply defies reason. If a man is going to fake his own death, why would he choose to be remembered as having croaked while straining too hard on the toilet? Why not choose a more flattering death scene, like maybe a heart attack on the racquetball court? It doesn't make sense that he would volunteer for such an ignominious demise. Elvis was obviously somebody who thought about his place in history.

Meanwhile, lots of other people have thought about it, too. It has been widely maintained that Elvis was little more than an opportunist who mimicked popular Negro music, repackaging it for white audiences. Which is hard to deny, so why bother? Regardless, he became a tremendous force in the music industry and it propelled him into the limelight. Elvis did his thing and got rich doing it.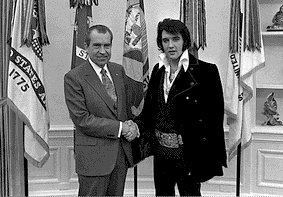 America's most famous photo op took place in December 1970. That picture of President Richard M. Nixon shaking hands with Elvis in the Oval Office is the perfect embodiment of our most cherished values: the obsession with celebrity, disdain for politicians, and love of the absurd. By all rights it should be on the cover of every U.S. History textbook.
Earlier that morning, Elvis had scrawled out a barely-legible six-page letter of introduction on American Airlines stationery, which was then hand-delivered to the White House. Despite the fact that the note appeared to have been written by someone suffering the debilitating effects of dangerous narcotics (cough, cough) Nixon agreed to see him that same day.
Elvis wore a purple velvet cape to their brief lunchtime meeting, at which he expressed a great desire to assist with the President's crusade against illegal drugs. Afterwards, White House staffers conceived an idea wherein Elvis would compose a song with the theme "Get High On Life" and then record the track at the Public Health Services hospital in Lexington, Kentucky (home to a federal narcotics rehabilitation and research facility). Elvis' management informed the staffers that he would be happy to accommodate their plan for just $25,000. For whatever reason, this proposal fell through.
Later on during the Washington trip, Elvis requested a tour of FBI Headquarters. The agency granted his request, although they opted not to grant him an audience with J. Edgar Hoover because he dressed like a girl:
Presley's sincerity and good intentions notwithstanding he is certainly not the type of individual whom the Director would wish to meet. It is noted at the present time he is wearing his hair down to his shoulders and indulges in the wearing of all sorts of exotic dress. [...] call and advise him that while we will be pleased to afford him, Presley and their party a special tour of our facilities tomorrow, 12-31-70, that it will not be possible for the Director to see them.
Afterwards, the FBI typed up a report describing the visit. It reveals an Elvis who believed that God was likely to punish mortals who espouse anti-American beliefs:
Presley indicated that he is of the opinion that The Beatles laid the groundwork for many of the problems we are having with young people by their filthy unkempt appearances and suggestive music while entertaining in this country during the early and middle 1950's. He advised that the Smothers Brothers, Jane Fonda, and other persons in the entertainment industry of their ilk have a lot to answer for in the hereafter for the way they have poisoned young minds by disparaging the United States in their public statements and unsavory activities.
No doubt about it, Elvis was a weirdo. But he could also be violent at times. According to her, he gave Priscilla at least one black eye. He experienced sudden mood swings and often displayed a lack of impulse control. When he got annoyed, he had a habit of shooting things: television sets, ceilings, the airspace just above whomever he was mad at... stuff like that. According to some close friends, Elvis even decided on the spur of the moment to give Scientology a try. It didn't go well:
One day, in L.A., we got in the limousine and went down to the Scientology center on Sunset, and Elvis went in and talked to them. We waited in the car, but apparently they started doing all these charts and crap for him. Elvis came out and said "Fuck those people! There's no way I'll ever get involved with that son-of-a-bitchin' group. All they want is my money."
Of course, both his ex-wife Priscilla and their daughter Lisa Marie ultimately wound up belonging to the cult. In September 2002, Priscilla lamented that Elvis hadn't joined: "I wish that he knew what Scientology was before he died." She added that it could have "helped Elvis a lot" with his drug problem. Maybe yes, maybe no.

Back in 1958, in addition to being a patriotic American citizen, Presley had been an undeniable dreamboat. Publicity photos taken during his induction into the Army presented the picture of a lithe, supple, and taut Elvis. Of course, the binge eating eventually turned him into a major lardass.
But it wasn't just the quantity of food he consumed. He especially loved eating all that unhealthful crap. It is widely reported that Elvis' favorite snack was peanut butter and banana sandwiches... grilled in butter. And then there's the "Fool's Gold Loaf": a hollowed-out loaf of bread drenched in butter, stuffed with peanut butter, jelly, and crisp bacon. [Dear God my mouth is watering.]
And let's not forget those narcotics. Elvis had been hooked on stimulants and sleeping pills for years, maybe decades. His ex-girlfriend Linda Thompson would later tell the coroner that:
"[H]e took so many drugs, he would fall asleep in the middle of eating, and I would have to clean food out of his mouth and out of his throat and turn him on his side and make sure that he was breathing."
The autopsy suggested that he had overdosed on "significant amounts" of codeine, methaqualone, ethinamate, and miscellaneous barbiturates. There were also traces of morphine, Valium, Demerol, Meperidine, Placidyl, and chloropheniramine. The coroner also reported that Elvis' last meal had consisted of four scoops of ice cream and six chocolate chip cookies.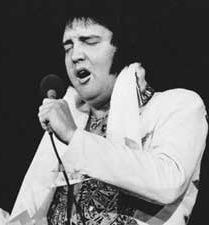 Elvis' corpse was stashed in a gray marble crypt at Forest Hills Cemetery. Two months later, after attempts were made to steal his remains, they were moved to Graceland. It may have been a ransom attempt. According to some sources, the casket contained a very valuable diamond ring. So maybe that was it.
According to Linda Thompson, Elvis "used to wear an Egyptian ankh, a star of David, and a crucifix around his neck. And when people would say 'Are you confused?' he would say, 'No, not at all. I just don't want to miss Heaven on a technicality.'"
Wherever he is, Elvis would have been surprised that his little girl Lisa Marie wound up a Scientologist. But he would have been absolutely stupefied by her marriage to Michael Jackson. Even Elvis would have considered that freaky.
Timeline
| | |
| --- | --- |
| 8 Jan 1935 | Born in Tupelo, Mississippi. Twin brother Garon Presley is stillborn. |
| 10 Jan 1936 | Dr. William R. Hunt signs Elvis' birth certificate, and Jesse Garon's certificate. |
| 3 Jun 1953 | Elvis Presley graduates Humes High School. |
| 6 Feb 1955 | Meets Col. Tom Parker for the first time, at North Hall Auditorium, Memphis. |
| 4 Dec 1956 | The Million Dollar Quartet: Jerry Lee Lewis, Elvis Presley, Carl Perkins, and Johnny Cash jam at Sun Studio. |
| 7 Mar 1957 | Elvis Presley purchases Graceland for $102,500. |
| 24 Mar 1958 | Elvis Presley reports for duty after being drafted into the US Army. The next day he receives the best-documented G.I. haircut in history. |
| 14 Aug 1958 | Mother Gladys Presley dead of acute hepatitis. |
| Nov 1959 | While stationed in Germany, a 24-year-old Elvis Presley meets 14-year-old Priscilla Beaulieu at a party. Their relationship eventually leads to a Vegas wedding. |
| 20 Jan 1960 | Promoted to the rank of Sergeant. |
| 5 Mar 1960 | Discharged from active duty. |
| Oct 1962 | The Mexican government bans the screening of Elvis movies after a riot in a Mexico City theater showing G.I. Blues. |
| Dec 1962 | 17-year-old Priscilla Beaulieu spends the Christmas holiday with Elvis at Graceland, without her parents. |
| Jan 1964 | Purchases Franklin D. Roosevelt's yacht Potomac, $55,000. |
| 27 Aug 1965 | Jams with The Beatles. |
| 1 May 1967 | Marries Priscilla, Las Vegas NV. |
| 1 Feb 1968 | Only child, Lisa Marie Presley, born, 6 pounds, 15 ounces. |
| 3 Dec 1968 | The 1968 Comeback Special is aired, garnering 54 million viewers. |
| 21 Dec 1970 | President Richard M. Nixon receives Elvis Presley in the Oval Office of the White House. |
| 9 Oct 1973 | Elvis and Priscilla granted divorce. |
| 18 Jun 1975 | Undergoes plastic surgery to have the bags under his eyes removed, Mid South Hospital, Memphis. |
| 23 Nov 1976 | Jerry Lee Lewis arrested, Graceland. |
| 3 Mar 1977 | Elvis Presley signs his Last Will and Testament. |
| 26 Jun 1977 | Final concert performance, Market Square Arena, Indianapolis IN. |
| 16 Aug 1977 | Elvis Presley dies in his home at the age of 42, while sitting on the toilet. In the bathroom, he had been reading The Scientific Search for the Face of Jesus. Presumably, Elvis' search was concluded shortly thereafter. |
| 2 Oct 1977 | The bodies of Elvis Presley and his mother Gladys are moved from Forest Hill Cemetery to the Meditation Garden at Graceland, thereby becoming yet more tourist attractions. |
| 1981 | An Eternal flame honoring Elvis is lit at Graceland. It burns out a few years later and is never relit. |
| 7 Jun 1982 | Graceland doors opened to the public as a tourist trap attraction. That day, 3,024 people visit. Twenty years later, 600,000 people visit the home annually, making it second only to the White House. |
| 1987 | Rising Sun, golden Palomino purchased by Elvis in 1966, dies at Graceland. |
| 24 Feb 1992 | Postal patrons are offered the choice to between Fat Elvis (The Vegas Years) and Thin Elvis for depiction on an American postage stamp. Thin Elvis defeats Fat Elvis. |
| 1992 | The Republic of the Marshall Islands issues legal tender depicting Elvis's likeness, which are sold to gullible Americans who think the coins have some modicum of value. Royalties are paid to Elvis Presley Enterprises, Inc. |
| 8 Jan 1993 | The (Thin) Elvis postage stamp is issued. |
| 1 Feb 1998 | Daugher Lisa Marie Presley (at one point married to Michael Jackson) turns 30 and becomes sole heir to the Elvis Presley fortune. It is difficult to judge the value of the estate, but it is believed to be around $500M. (Note that Elvis' liquid assets were about $500,000 when he died.) |
| 28 Feb 2001 | Elvis Presley tops Forbes magazines first annual list of Top-Earning Dead Celebrities, with a cool Y2K income of $35M, of which $15M came from Graceland admission. |
---