---
John Lydon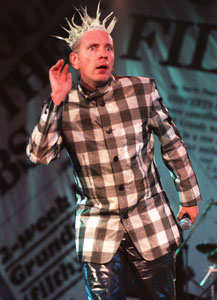 How could the Rotten Library be complete without Johnny Rotten? Yes, he created a model for youth rebellion not seen since James Dean. But mainly he deserves mention for reuniting the Sex Pistols for no good reason at all other than Filthy Lucre, though at least admitting the motive.
Quotes
"I don't need to swear. I have a big vocabulary."
"Meat isn't murder, it's delicious."
"He plays four-and-a-half-hour sets. That's torture. Does he hate his audience?" (On Bruce Springsteen.)
Timeline
| | |
| --- | --- |
| 31 Jan 1956 | John Lydon born. |
| 1977 | Sex Pistols' Anarchy in the UK. |
| 14 Jan 1978 | The Sex Pistols hold their final concert, at Winterland in San Francisco. In the 1990s, John Lydon commences the Filthy Lucre tour, with a backing band that uses the Sex Pistols name. But those guys are fat and old. |
| 6 Oct 1980 | John Lydon of band Public Image Ltd. and formerly the Sex Pistols, arrested for disorderly conduct in a Dublin bar. |
| 1986 | Band Flipper releases double live LP, Public Flipper Ltd., in retaliation for Public Image Ltd.'s "Single", "Album", "CD" blatant concept ripoff of Flipper's earlier Generic Album. |
| 1993 | Public Image Ltd. disbanded. |
| 1994 | Autobiography: Rotten: No Irish, No Blacks, No Dogs. |
| 1996 | A re-formed Sex Pistols begins touring. "We're fat, forty and back!" Gross. |
| 7 Dec 1996 | Final show of the Filthy Lucre tour, Santiago, Chile. |
---