---
Abraham Lincoln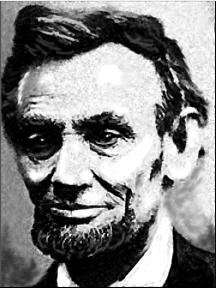 While he may not have been gay, Lincoln did share a double bed with an attractive younger man, Joshua Fry Speed, for four years. Certain homosexual writers state outright that Lincoln was bisexual, but there is no actual evidence to this effect other than assumed innuendo and wishful thinking. And the men gave each other advice with regards to their women problems.

Lincoln's eldest son, Robert Todd Lincoln, was bad luck for U.S. Presidents, being present at three U.S. Presidential assassinations -- Lincoln's, Garfield's and McKinley's. To be technical, Robert was not actually present at the last one, but instead had just arrived in town. Even so, for the good of the country, he avoided chief executives altogether after McKinley.

Lincoln's corpse has led an interesting life. The lead-lined presidential coffin has been moved 17 times, and exhumed and examined no fewer than five times. One attempt was made to rob the body and hold it for ransom, but the police were waiting. To avoid future threats of grave robbery, Lincoln was buried in a cage under two tons of concrete. It seems to have worked; Lincoln hasn't been seen since.

Scholarly consensus has Lincoln as America's greatest President. But no man this... homely.... would ever be elected now, in these days of TV, ADD, and soundbytes. Lieberman or Kerry? Holy christ you have got to be kidding.
Timeline
| | |
| --- | --- |
| 12 Feb 1809 | Abraham Lincoln born, Hardin County KY, in a log cabin without floors, doors, or windows. |
| 1836 | Proposes marriage to Mary Owens. She declines. |
| 9 Sep 1836 | Receives license to practice law. |
| 15 Apr 1837 | Lincoln meets and immediately moves in with Joshua Fry Speed, an attactive and intelligent young man, and they share a double bed together for the next four years. |
| 15 Feb 1842 | Joshua Speed marries Fanny Hennings. |
| 4 Nov 1842 | Abraham Lincoln marries Mary Todd. |
| 1 Aug 1843 | Son, Robert Todd Lincoln, born. |
| 10 Mar 1846 | Son, Edward Baker Lincoln, born. |
| 1 Feb 1850 | Edward Baker Lincoln dies. |
| 21 Dec 1850 | Son, William Wallace Lincoln, born. |
| 4 Apr 1853 | Son, Thomas (Tad) Lincoln, born. |
| 4 Mar 1861 | Abraham Lincoln inaugurated as 16th President. |
| 1 Jan 1863 | Emancipation Proclamation. |
| 14 Apr 1865 | Robert Todd Lincoln arrives in Washington DC, in time for his father's assassination. |
| 14 Apr 1865 | Abraham Lincoln assassinated by John Wilkes Booth, at Ford's Theater in Washington, DC. |
| 15 Apr 1865 | Abraham Lincoln dies at 7:22 am. |
| 26 Apr 1865 | John Wilkes Booth killed. |
| 4 May 1865 | Buried at Oak Ridge Cemetery, Springfield IL. |
| 21 Dec 1865 | Lincoln's coffin opened. |
| 19 Sep 1871 | Lincoln's coffin opened. |
| 9 Oct 1874 | Lincoln's coffin opened. |
| 7 Nov 1876 | An attempt is made to steal Lincoln's corpse, and hold it for ransom. |
| 22 Jun 1877 | Lincoln's would-be tomb robbers begin serving prison sentence. |
| 2 Jul 1881 | Robert Todd Lincoln arrives at a train depot in Washington DC, barely in time to catch President Garfield's assassination by James Guiteau. |
| 29 May 1882 | Joshua Speed dies, Louisville KY. |
| 14 Apr 1887 | Lincoln's coffin opened. |
| 6 Sep 1901 | Robert Todd Lincoln arrives in Buffalo NY, in time for McKinley's assassination. |
| 26 Sep 1901 | Abraham Lincoln's body is exhumed an examined. The corpse is recognizably Lincoln, with the exception that the eyebrows have fallen out. Twenty-three individuals examine Lincoln, all agreeing that it is indeed him. Lincoln is then reburied for the last time, under two tons of cement. |
| 1909 | Lincoln's face put on the penny. |
| 1 Feb 1963 | The last man to see Lincoln's corpse as it was exhumed in 1901, Fleetwood Lindley, dies. Fleetwood was 13 when he saw Lincoln; before dying, he stated, "Yes, his face was chalky white. His clothes were mildewed. And I was allowed to hold one of the leather straps as we lowered the casket for the concrete to be poured. I was not scared at the time but I slept with Lincoln for the next six months." |
---