---
Jim Jones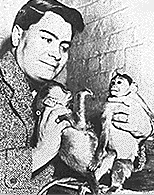 Failed monkey salesman.

Despite his sociopathy, one must give Jim Jones mad props for loyalty and people management skills. First, he transforms his seemingly mainstream San Francisco congregation into a full-blown religious cult. Next he convinces the government of Guyana to give him 300 acres of South American jungle, and relocates 1,100 cult members to this distant hellhole. Finally, in 1978 after it all goes horribly wrong, Jones still manages to convince 900 of them to swallow poison in massively parallel suicide, the likes of which the world had never seen.

Arrested in a cruisy restroom in Los Angeles.

By the way, it wasn't Kool-Aid. It was Flavor Aid®. Different company altogether.



Timeline
| | |
| --- | --- |
| 13 Dec 1973 | The Reverend Jim Jones is arrested in a cruisy movie theater bathroom in Los Angeles. Unfortunately, Jones had the bad luck to hit on an undercover LAPD vice officer while masturbating in the Westlake Theatre men's room. |
| 5 Oct 1976 | Bob Houston is pushed under a train, the day after announcing his intention to leave the People's Temple. |
| 18 Nov 1978 | The assassination of Congressman Leo J. Ryan and the 900-person mass suicide at Jonestown, Guyana. |
| 1989 | The abandoned People's Temple building on Geary and Steiner in San Francisco is razed following the Loma Prieta earthquake. A post office now stands in its place. |
---