---
Wal-Mart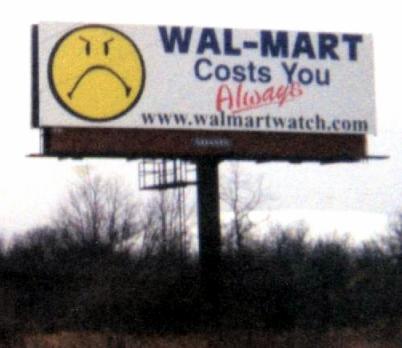 The evil is not in Wal-Mart's beginning, but in where it inevitably led.

One of the effects of a Wal-Mart on a town is that it will entirely seize all the goods and services of the business community without any particular dependence on the economy of the area. If that sounds like mere survival of the fittest, look at it this way: As Walmart Store #555 becomes the largest (and in some products, only) store in Dublin, New Hampshire, then Dublin depends entirely on Walmart... while Walmart continues to think of Dublin as merely Store #555. Should they ever make the decision to close the store (as they have in Nowata, Oklahoma; Hearne, Texas; or Grand Saline, Texas), then Dublin takes it in the shorts. The effect is not unlike a giant resting on a comfortable chair that breaks under the strain; the giant gets up and walks on to another place to sit; the chair's options are markedly less.

The charges against Walmart read like an anti-monopolist screed from 100 years ago: Union-busting, predatory pricing (pricing everything so low that other competitors buckle), vicious response to zoning laws in their way, and overcharging/defrauding customers by "mistake" on many, many occasions. This has caused a litany of lawsuits against the corporation, but Walmart presses on.

Remember "Sam's Wholesale Club"? It's called simply "Sam's Club" now because the prices were not "Wholesale" at all.
Contagious labor practices
Businesses around the country, large and small, are cutting jobs and benefits on the seemingly unassailable rationale that they "have to stay competitive." It's the labor practices of Wal-Mart that are setting the standard, and it's fast becoming a race to the bottom. The only way to "stay competitive" with Wal-Mart, ultimately, is to emulate Wal-Mart's business model which necessarily relies on a constellation of aggressive, predatory and, evidently, illegal practices.

In October 2003, The Bureau of Immigration and Customs Enforcement executed Operation Rollback, raiding 61 Wal-Mart stores across 21 states. They arrested more than 300 janitors, all of them undocumented immigrants, most of whom originated in Eastern Europe. According to an unnamed federal law enforcement official, some Wal-Mart executives had direct knowledge of the scheme.

The Feds didn't just suddenly arrest hundreds of undocumented workers by some massive coincidence. Obviously they were able to do it due to some evidence of a systematic practice of hiring illegals. There's only one reason in the world a large company like Wal-Mart would knowingly employ (or even more conspiratorially, contract for the employment of) undocumented workers when there is a surplus of legal labor available to them already. That reason: illegals are at the mercy of their employer. They are powerless to exercise ordinary rights otherwise guaranteed to legal workers under the law, powerless to demand fair treatment, powerless to protest unsafe working conditions.

Maybe you don't care how illegal workers are treated. You might even make a decent argument that the situation is somewhat of their own doing, that they weren't even supposed to be in the country in the first place. That's fine, but the bigger problem is, the exploitation doesn't end with illegal workers. It is an end-run around the fair labor practices that they'd be pestered with constantly if dealing with legal workers. American workers lose, and taxpayers are footing the bill for the de facto subsidization of Wal-Mart's labor costs. Even Wal-Mart's legal workers are so poorly-paid that most of them qualify for food stamps and rely on publicly-subsidized health care services.

It's appalling that Wal-Mart is held up as a shining example of American business done well. Instead of trying to keep up with the Waltons, other American businesses should be trying to expose Wal-Mart as an unfair player on the field.

Businesses need to wake up and recognize that it's not their workers that are sucking the life out of them -- it's Wal-Mart.
Timeline
| | |
| --- | --- |
| 29 Mar 1918 | Sam Walton born, Kingfish OK. |
| 2 Jul 1962 | First Wal-Mart opens, Rogers AR. |
| 31 Oct 1969 | Wal-Mart Stores Inc. incorporated, on Halloween. |
| 6 Apr 1992 | Founder of Wal-Mart, Sam Walton, dies of multiple myeloma, Little Rock AR. At time of death, his 38% of Wal-Mart equalled a market value of $20B. |
| 15 Feb 1996 | Linda Gump breaks her right foot slipping on a McDonald's french fry while leaving the Wal-Mart in Kailua-Kona, Hawaii. Gump sues Wal-Mart and wins $35,173.22. |
| Apr 2002 | In Mirimar, New Jersey, 17 Wal-Mart shoppers come down with nausea and vomiting. The store is evacuated. |
| 8 Oct 2003 | The Federal Election Commission dismisses a complaint, which claimed that Wal-Mart gave $2 million in free advertising to Senate candidate Elizabeth Dole. A few weeks before the 2002 North Carolina primary, Dole appeared on the cover of Source, a Wal-Mart house organ mailed nationally to customers of Sam's Club. In their decision, the FEC rules that Source qualifies as a bona fide news outlet, somehow. |
| 23 Oct 2003 | The Bureau of Immigration and Customs Enforcement executes Operation Rollback, raiding 61 Wal-Mart stores across 21 states. They arrest more than 300 janitors, all of them undocumented immigrants, most of whom originated in Eastern Europe. According to an unnamed federal law enforcement official, some Wal-Mart executives had direct knowledge of the scheme. |
| 21 Jan 2004 | Wal-Mart opens its 3,000th store in San Antonio, TX. |
| 3 Feb 2004 | The Center for Responsive Politics reports that Wal-Mart is currently the second-highest contributor to 2004 federal election campaigns, with 85% of the money flowing into Republican campaigns. In 2000, Wal-Mart ranked below 100 in election contributions. |
---