---
Very Special Secrets
This helpful hygiene education pamphlet promotes a 1950's and 60's line of training bras for young girls interested in growing boobies.
Their sage wisdom includes:
Thinnies should go heavy on cheese, bread, butter, milk. Plumpies should favor salads, lean meat, non-fat milk.
Wear a bra to increase self-confidence, even if you have no breasts. Your mother will understand.
Swimming, Tennis and stretching are all super for your bust line.
Looking good mostly means walking with your head up, shoulders back, chest up, and stomach in.
Doctors agree that the delicate glands and tissues of the developing breasts need proper support.
If you're shy or uncomfortable, just pretend you're not.
Be sure to check out the "Littlest Angel" bra with patented nylon "Gro-Cup" that expands in the event of boob sproutage. Also available: "Dainti-Teen Sanitary panty-belt." Sorry ladies, white only.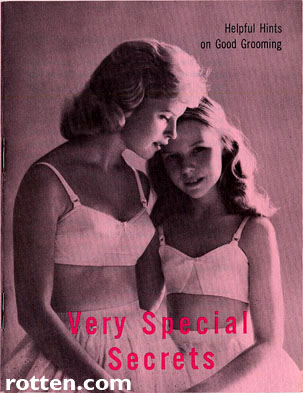 Helpful Hints on Good Grooming
Very Special Secrets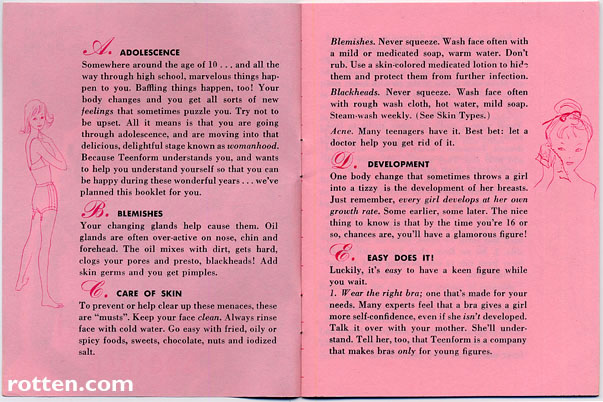 A. ADOLESCENCE
Somewhere around the age of 10 ... and all the way through high school, marvelous things happen to you. Baffling things happen, too! Your body changes and you get all sorts of new feelings that sometimes puzzle you. Try not to be upset. All it means is that you are going through adolescence, and are moving into that delicious, delightful stage known as womanhood. Because Teenform understands you, and wants to help you understand yourself so that you can be happy during these wonderful years ... we've planned this booklet for you.

B. BLEMISHES
Your changing glands help cause them. Oil glands are often over-active on nose, chin and forehead. The oil mixes with dirt, gets hard, clogs your pores and presto, blackheads! Add skin germs and you get pimples.

C. CARE OF SKIN
To prevent or help clear up these menaces, these are "musts". Keep your face clean. Always rinse face with cold water. Go easy with fried, oily or spicy foods, sweets, chocolate, nuts and iodized salt.

Blemishes. Never squeeze. Wash face often with a mild or medicated soap, warm water. Don't rub. Use a skin-colored medicated lotion to hide them and protect them from further infection.
Blackheads. Never squeeze. Wash face often with rough cloth, hot water, mild soap. Steam-wash weekly. (See Skin Types.)
Acne. Many teenagers have it. Best bet: let a doctor help you get rid of it.

D. DEVELOPMENT
One body change that sometimes throws a girl into a tizzy is the development of her breasts. Just remember, every girl develops at her own growth rate. Some earlier, some later. The nice thing to know is that by the time you're 16 or so, chances are, you'll have a glamorous figure!

E. EASY DOES IT!
Luckily, it's easy to have a keen figure while you wait.
1. Wear the right bra; one that's made for your needs. Many experts feel that a bra gives a girl more self-confidence, even if she isn't developed. Talk it over with your mother. She'll understand. Tell her, too, that Teenform is a company that makes bras only for young figures.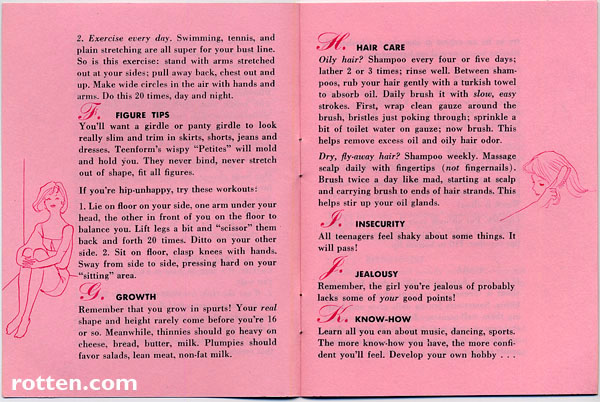 2. Exercise every day. Swimming, tennis, and plain stretching are all super for your bust line. So is this exercise: stand with arms stretched out at your sides; pull away back, chest out and up. Make wide circles in the air with hands and arms. Do this 20 times, day and night.

F. FIGURE TIPS
You'll want a girdle or panty girdle to look really slim and trim in skirts, shorts, jeans and dresses. Teanform's wispy "Petites" will mold and hold you. They never bind, never stretch out of shape, fit all figures.

If you're hip-unhappy, try these workouts:

1. Lie on floor on your side, one arm under your head, the other in front of you on the floor to balance you. Lift legs a bit and "scissor" them back and forth 20 times. Ditto on your other side. 2. Sit on floor, clasp knees with hands. Sway from side to side, pressing hard on your "sitting" area.

G. GROWTH
Remember that you grow in spurts! Your real shape and height rarely come before you're 16 or so. Meanwhile, thinnies should go heavy on cheese, bread, butter, milk. Plumpies should favor salads, lean meat, non-fat milk.

H. HAIR CARE
Oily hair? Shampoo every four or five days; lather 2 or 3 times; rinse well. Between shampoos, rub your hair gently with a turkish towel to absorb oil. Daily brush it with slow, easy strokes. First, wrap clean gauze around the brush, bristles just poking through; sprinkle a bit of toilet water on gauze; now brush. This helps remove excess oil and oily hair odor.

Dry, fly-away hair? Shampoo weekly. Massage scalp daily with fingertips (not fingernails). Brush twice a day like mad, starting at scalp and carrying brush to ends of hair strands. This helps stir up your oil glands.

I. INSECURITY
All teenagers feel shaky about some things. It will pass!

J. JEALOUSY
Remember, the girl you are jealous of probably lacks some of your good points!

K. KNOW-HOW
Learn all you can about music, dancing, sports. The more know-how you have, the more confident you'll feel. Develop your own hobby . . .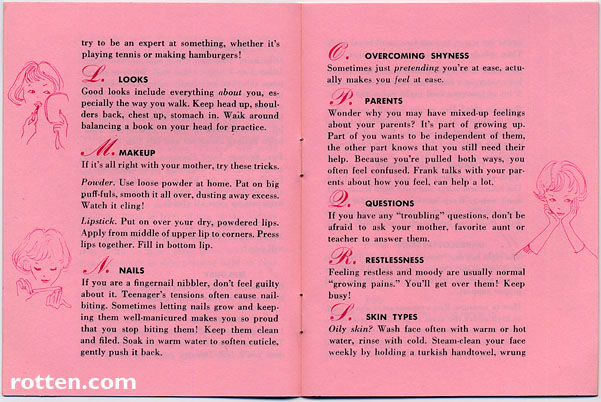 try to be an expert at something, whether it's playing tennis or making hamburgers!

L. LOOKS
Good looks include everything about you, especially the way you walk. Keep head up, shoulders back, chest up, stomach in. Walk around balancing a book on your head for practice.

M. MAKEUP
If it's all right with your mother, try these tricks.

Powder. Use loose powder at home. Pat on big puff-fuls, smooth it all over, dusting away excess.
Watch it cling!

Lipstick. Put on over your dry, powdered lips. Apply from middle of upper lip to corners. Press lips together. Fill in bottom lip.

N. NAILS
If you are a fingernail nibbler, don't feel guilty about it. Teenager's tensions often cause nailbiting. Sometimes letting nails grow and keeping them well-manicured makes you so proud that you stop biting them! Keep them clean and filed. Soak in warm water to soften cuticle, gently push it back.

O. OVERCOMING SHYNESS
Sometimes just pretending you're at ease, actually makes you feel at ease.

P. PARENTS
Wonder why you may have mixed-up feelings about your parents? It's part of growing up. Part of you wants to be independent of them, the other part knows that you still need their help. Because you're pulled both ways, you often feel confused. Frank talks with your parents about how you feel, can help a lot.

Q. QUESTIONS
If you have any "troubling" questions, don't be afraid to ask your mother, favorite aunt or teacher to answer them.

R. RESTLESSNESS
Feeling restless and moody are usually normal "growing pains." You'll get over them! Keep busy!

S. SKIN TYPES
Oily skin? Wash face often with warm or hot water, rinse with cold. Steam-clean your face weekly by holding a turkish handtowel, wrung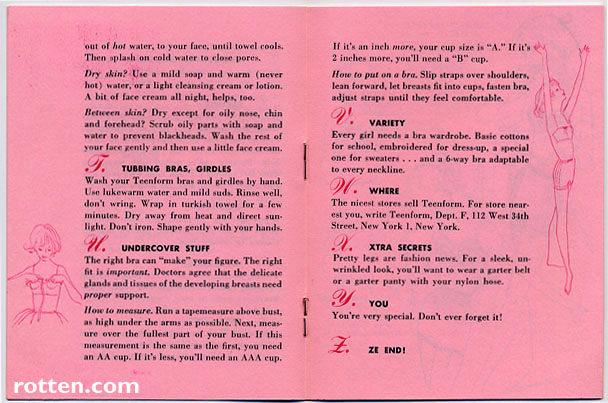 out of hot water, to your face, until towel cools. Then splash on cold water to close pores.

Dry skin? Use a mild soap and warm (never hot) water, or a light cleansing cream or lotion. A bit of face cream all night, helps, too.

Between skin? Dry except for oily nose, chin and forehead? Scrub oily parts with soap and water to prevent blackheads. Wash the rest of your face gently and then use a little face cream.

T. TUBBING BRAS, GIRLDES
Wash your Teenform bras and girdles by hand. Use lukewarm water and mild suds. Rinse well, don't wring. Wrap in turkish towel for a few minutes. Dry away from heat and direct sunlight. Don't iron. Shape gently with your hands.

U. UNDERCOVER STUFF
The right bra can "make" your figure. The right fit is important. Doctors agree that the delicate glands and tissues of the developing breasts need proper support.

How to measure. Run a tapemeasure above bust, as high under the arms as possible. Next, measure over the fullest part of your bust. If this measurement is the same as the first, you need an AA cup. If it's less, you'll need an AAA cup.

If it's an inch more, your cup size is "A." if it's 2 inches more, you'll need a "B" cup.

How to put on a bra. Slip straps over shoulders, lean forward, let breasts fit into cups, fasten bra, adjust straps until they feel comfortable.

V. VARIETY
every girl needs a bra wardrobe. Basic cottons for school, embroidered for dress-up, a special one for sweaters . . . and a 6-way bra adaptable to every neckline.

W. WHERE
The nicest stores sell Teenform. For store nearest you, write Teenform, Dept. F, 112 West 34th Street, New York 1, New York.

X. XTRA SECRETS
Pretty legs are fashion news. For a sleek, unwrinkled look, you'll want to wear a garter belt or a garter panty with your nylon hose.

Y. YOU You're very special. Don't ever forget it!

Z. ZE END!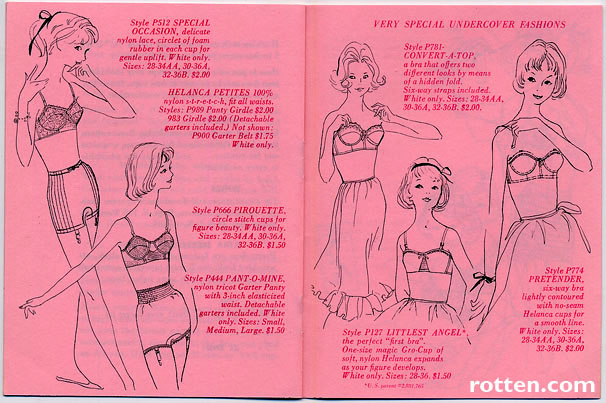 Style P512 SPECIAL
OCCASION, delicate
nylon lace, circlet of foam
rubber in each cup for
gentle uplift. White only.
Sizes: 28-34AA, 30-36A.
32-36B. $2.00

HELANCA PETITES 100%
nylon s-t-r-e-t-c-h, fit all waists. Styles: P989 Panty Girdle $2.00
983 Girdle $2.00 (Detachable
garters included.) Not shown:
P900 Garter Belt $1.75
White only.

Style P666 PIROUETTE,
circle stitch cups for
figure beauty. Whit only,
Sizes: 28-34AA, 30-36A,
32-36B. $1.50

Style P444 PANT-O-MINE,
nylon tricot Garter Panty
with 3-inch elasticized waist. Detachable
garters included. White
only. Sizes: Small,
Medium, Large. $1.50

VERY SPECIAL UNDERCOVER FASHIONS

Style P781-
CONVERT-A-TOP,
a bra that offers two
different looks by means
of a hidden fold.
Six-way straps included.
White only. Sizes: 28-34AA, 30-36A, 32-36B. $2.00

Style P127 LITTLEST ANGEL*,
the perfect "first bra". One-size magic Gro-Cup of
soft, nylon Helanca expands
as your figure develops.
White only. Sizes: 28-36. $1.50
*U.S. patent #2,881,765

Style P774
PRETENDER,
six-way bra
lightly contoured
with no-seam
Helanca cups for
a smooth line.
White only. Sizes:
28-34AA, 30-36A,
32-36B, $2.00