---
Disneyland
Few places of entertainment on Earth have garnered as much wonder, legend, or controversy as Disneyland, the Walt Disney Company amusement park, which was the first large-scale implementation of Disney approach to fantasy, story, and crowd control.

Places of Family Amusement are not new in the world, and there has certainly grown a science to them not unlike that of keeping a travelling circus intact, or maintaining national parks. But more than those who came before them, Disney and his creative team focused on the presentation of Disneyland, ensuring that it would be as controlled and predictable a fiction as their movies, records and television shows had been up to that point.

Walking into Disneyland is like a entering the sweeping shot of a fantasy movie, with an town square reaching forward to a breathtaking castle. Every aspect of the park was said to be planned ahead with the energy of one of the Disney animated features, with artists from various productions brought in to work on the look and style of the place. Actors from many Disney features appear as the voices of birds, announcers and narrators in the park.

But all this wonder hides how extensive the Disney planning really is.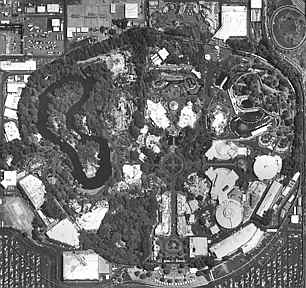 When you enter Disneyland, you are actually on the top floor of a giant complex of underground facilities, providing most of the "heart and health" of the park with security, employee facilities, garbage collection and other important administrative aspects all hidden from view. You don't see garbage stacked outside Disneyland waiting to be picked up, and you never see an employee shuffling out to the lot after a long day. The park has even developed its own nomenclature to insulate gritty details from the public; a protein spill is the code that a child's vomit needs to be mopped up.
It is said that Walt Disney planned the park to the point of the placement of wastebaskets: He supposedly took a snack that might be purchased at a stand, walked until he finished it, and decreed that no trashcan would be further than that distance from any other. There are few places outside of Las Vegas where such grandiose and breathtakingly anal plans would be taken seriously, both in implementation and in believing that such forethought existed. And Las Vegas was nowhere near Disneyland's level for years.
This has caused such urban legends as the "Disney Tapes", where Walt Disney was said to have left film loops to be played after his death for several years, his forward-thinking genius so amazing he could predict what would be awaiting the company in the ensuing years; this is actually a core part of Isaac Asimov's Foundation series of novels, and not the real case. It is thought that promotional films that Disney made before his death regarding EPCOT and other projects were the source of this rumor.
Some Flaws in the Facade
It should also be remembered that Disneyland was an amazing mess on its opening day in July 17, 1955. Many attractions weren't built yet, the Main Street asphalt was still soft, and technical difficulties were everywhere. But over time, the bugs were worked out, except for the occasional death on the property.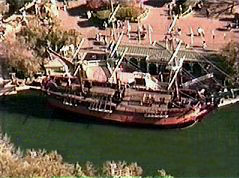 There have been several deaths at Disneyland, more than the company would prefer to admit. The possibility of getting maimed or killed in the park is just something they would rather you didn't concern yourself with.
On Christmas Eve in 1998, Microsoft employee Luan Phi Dawson was killed by a flying metal cleat, ripped from the sailing ship Columbia by a mooring cable. The rope should not have been secured, because the vessel was coming in to the dock too fast to stop. But the rope was supposed to break when it was stretched too tight, in order to prevent a piece of the ship from getting torn off and hurting somebody. (Evidently nobody ever tested this theory.) Lawyers for the park settled with the Dawson family in October 2000 for an undisclosed sum.
Other results of Disneyland have been a wholescale change in how Amusement Parks have had to compete over the years, with larger and larger parks being built across the country to compete with them. Busch Gardens, Six Flags, and other gigantic parks have overrun the tiny tourist attractions of old, and while it may not be a major tragedy to miss out on paying $5 to see an old mummy, playing upwards of $30 to wait around in lines to get on yawning metal thrill rides is no great experience either.
There is worthwhile discussion of the effect that Disneyland has had on the surrounding town of Anaheim.
Even Disneyland itself was dwarfed by Walt Disney World in Orlando, Florida, whose ambitious plans, massive scale, and frightening governmental aspects are worthy of an entry in itself.
Timeline
1954
McDonald's franchise agent Ray Kroc unsuccessfully appeals to Walt Disney about opening a restaurant in Disneyland:

Dear Walt,

I feel somewhat presumptuous addressing you in this way. Yet I am sure you would not want me to address you any other way... My name is Ray A. Kroc... I look over the Company A picture we had taken in Sound Beach, Conn. many times and recall a lot of pleasant memories.

I have very recently taken over the national franchise of the McDonald's system. I would like to inquiry if there may be an opportunity for a McDonald's in your Disneyland Development.

17 Jul 1955
Disneyland opens in Anaheim, California. In the words of Walt Disney, "That place is my baby, and I would prostitute myself for it."
May 1964
Mark Maples is killed on the Matterhorn.
Jun 1966
Thomas Guy Cleveland is killed by the Monorail.
Aug 1967
Ricky Lee Yama is killed by the PeopleMover.
6 Aug 1970
750 unkempt Yippies show up at Disneyland, hell-bent "to liberate Minnie Mouse, have free rein of the park and infiltrate Tom Sawyer's Island," according to Youth International Party leaflets. Instead, they wind up scuffling with Disney security and other patrons, eventually prompting Anaheim police to close the park early and forcibly eject the dirty longhairs.
Jun 1973
Bogden Delaurot drowns in the Rivers of America.
8 Jul 1974
Park employee Deborah Stone is crushed to death at America Sings.
7 Jun 1980
Gerardo Gonzales crushed to death on the PeopleMover.
7 Mar 1981
Eighteen year old Mel Yorba is stabbed to death at Disneyland, near the Matterhorn ride. He made the fatal mistake of grabbing at James O'Driscoll's girlfriend. O'Driscoll apparently retaliated with a sharp and pointy knife, and was found ninety minutes later hiding in Tomorrowland shrubbery. A jury trial ended in deadlock over his second degree murder charge.
4 Jun 1983
Philip Straughan drowns in the Rivers of America.
3 Jan 1984
Dolly Regene Young is killed on the Matterhorn.
24 Dec 1988
Microsoft employee Luan Phi Dawson is struck in the head by a flying metal cleat, ripped from the sailing ship Columbia by a mooring cable. He dies in the hospital two days later.
Oct 1989
Lonnie and Karen Boozer are accused of stealing a piggy bank from a Disneyland shop and are taken backstage with their two small daughters. There the girls see unmasked Disney characters, walking around with their heads off. The Boozers file suit for emotional distress. Disney settles the case in 1990 for an undisclosed sum.
7 Nov 1989
After being sentenced to death, convicted serial killer Richard Ramirez tells reporters: "Big deal. Death always went with the territory. I'll see you at Disneyland."
31 Mar 1990
A support arm collapses on the Dumbo ride, injuring a 13-year-old Canadian girl.
Jul 1995
Zipora Jacob suffers what she alleges to be a brain hemorrhage stepping off the Indiana Jones Adventure. Disney settles her case in 1999 for an undisclosed sum.
17 Aug 1995
Armed robbers mug former Mouseketeer Billie Jean Matay in a Disneyland parking lot. Afterwards, while she is reporting the incident to security, Matay's three young grandchildren witness several costumed performers backstage with their heads removed. Matay sues the park for emotional distress, but the case is thrown out of court.
Jan 1998
Big Thunder Mountain Railroad inclicts a serious injury to 5-year-old David Fackler's left foot, necessitating toe amputations.
28 Nov 1998
Deborah Bynum suffers what she alleges to be a brain hemorrhage on the Indiana Jones Adventure. Disney settles her case in 2001 for an undisclosed sum.
18 Dec 1998
McDonald's opens a french fry stand inside Disneyland, housed inside a covered wagon in Frontierland.
31 Jul 2000
A wheel-support arm breaks on Space Mountain, inflicting a sprained foot on one guest and bruises on eight others, as their car derails and skids to abrupt halt.
22 Sep 2000
4-year-old Brandon Zucker suffers severe brain damage when he gets trapped underneath the ride vehicle in Roger Rabbit's Car Toon Spin.
21 Dec 2000
The Alice in Wonderland ride crushes the foot and leg of a 15-year-old Arizona boy.
21 Jan 2001
A 6-year-old girl loses most of her left index finger playing with a toy rifle on Tom Sawyer Island.
1 Feb 2001
Melanie Hershock and her toddler are knocked backward while trying to get off the Pirates of the Caribbean ride, due to operator error. Hershock suffers injuries to her head and neck.
4 May 2001
27 guests and two cast members are injured when a 20-foot oak tree topples over and smashes into a popcorn stand in Frontierland. 73-year-old Jeanne Gill suffers a fractured pelvis.
Dec 2001
A 15-year-old breaks his leg on Alice in Wonderland when his foot is caught between the ride vehicle and guard rail.
22 Apr 2003
Disneyland cast member Christopher Bowman falls 42 feet to his death in the Hyperion Theatre while changing lightbulbs for "Disney's Aladdin: A Musical Spectacular."
5 Sep 2003
One guest is killed and 10 others injured when the Big Thunder Mountain Railroad coaster jumps the tracks in Frontierland.
16 Oct 2003
Cal OSHA fines Disneyland $18,530 for safe workplace violations which contributed to the death of Christopher Bowman.
30 Nov 2003
Walt Disney's nephew Roy E. Disney angrily resigns from the Walt Disney Company board of directors. Among his issues with Michael Eisner: "The timidity of your investments in our theme park business. At Disney's California Adventure, Paris, and now in Hong Kong, you have tried to build parks 'on the cheap' and they show it and the attendance figures reflect it."
8 Jul 2004
A Canadian family is taken to the hospital after two trains collide in brake zone 4 of Big Thunder Mountain Railroad in Frontierland. A Cal-OSHA report later determines that cast member James Nerrie had precipitated the accident by improperly removing a train from service.
---