---
Mary Carey
aka Mary Cook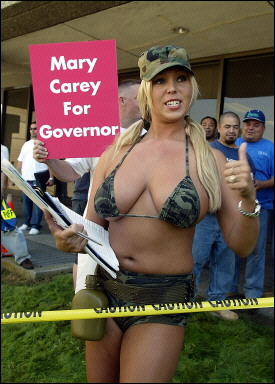 "I started out as thinking, 'This would be funny, why don't I run?' But then I discovered I really wanted to do it. I want to show that you can do porn and it doesn't mean you are stupid. It's good to show women that they can do these things, that running for governor isn't just for high-class, older men."
Porn actress Mary Carey has been quite successful in distinguishing herself from all the high-class, older men you normally see running for office. But that doesn't mean she has no competition for low-class votes. Carey is competing with other such luminaries as Gary Coleman, Larry Flynt, Gallagher, Arnold Schwarzenegger, as well as 100+ no-name schmoes.
It can reasonably be assumed that her political campaign was conceived as a publicity stunt to increase her name recognition and move merchandise. This is not the same as someone with political ambitions capitalizing on her fame as an adult video performer, like Cicciolina in her successful run for a seat in Italy's parliament. Cicciolina was famous before she ran for office. Mary Carey, in contrast, has become famous primarily as a result of her political campaign.
But with media attention comes scrutiny, and no one is immune from charges of hypocrisy. Not even joke candidates with big hooters. After all, the woman's name is genuinely on the ballot in California.
On Mary Carey's website, she lists an eight-point plan for rescuing California. The centerpiece of her campaign platform (point number two) says:
Tax breast implants. From Beverly Hills alone, we should bring in millions in tax revenue. (Note: I am all-natural and I personally discourage the use of implants!)
She justified the proposal to Entertainment Tonight as being a progressive tax. "People don't necessarily need breast implants or plastic surgery. It's more like a luxury tax. So by doing this, we would be taking money from people who have extra money lying around instead of people who need that." (No word as yet whether this tax would apply to mastectomy patients.)
the problem
For any other candidate for the office of governor of California, 116 minutes of graphic video depicting them in acts of sexual congress would pose a serious problem. Not so for Mary Carey, since she is, after all, a porn actress. Nevertheless, one of her films has gotten her into trouble.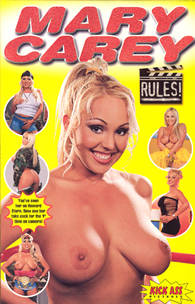 When Mary Carey Rules! was released in July 2003, it was a milestone of sorts for the libertine. Up until then, her adult film scenes were of strictly lesbian sex. Now fans could watch documentary footage of her making contact with actual penises. In a tone not unlike that of a carnival barker, the sunburst on the front of the box breathlessly announces: "You've seen her on Howard Stern. Now see her take cock for the 1st time on camera!"
And just in case that pitch sounds too good to be true, the back of the package features a slew of vidcaps depicting Carey con carne, as well as this testimonial from the novice schlong-wrangler herself:
Hey guys, welcome to my world! In case you forgot, I'm the 5-foot-9 blonde with natural double-D tits that everybody LOVES! Speaking of, I bet you'll love to see me get fucked by some big hard cocks, wouldn't you? Well, your wish has been granted! This video you hold in your hot little hands is a collector's item. For the first time in history, you can watch my tight little pussy getting drilled by macho man-meat! So pop this tape in your VCR and start stroking your own fat cock, sweetie. And remember -- I love you!

XXOO, MARY CAREY
All well and good. Except that the film's packaging revived a credibility issue for the adult film actress, which has become especially problematic now that she is a California gubernatorial candidate. The problem is contained in the second sentence, where Mary claims to possess "natural double-D tits." You see, Mary had already admitted to Tod Hunter from AVN Insider in 2001 that her breasts were fake:
Boob Job: "Do I have to answer honestly? Yes."
She had also said the same thing on the Howard Stern show, and reportedly to several of her costars. This caused a minor scandal in the adult video world, where Mary now sells herself as implant-free. In fact, the Mary Carey Rules! packaging contains a "Guarantee" promising "All-Natural Girls."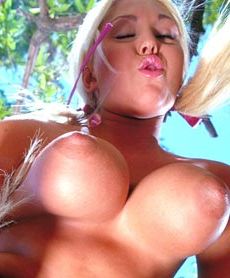 It was enough of a problem that Carey's manager arranged for a panel of adult industry folk to touch and squeeze Mary's breasts to determine firsthand (as it were) whether they contain any foreign objects.
Kick Ass Pictures owner Mark Kulkis, has issued an open letter, via email, to the media in which he insists that Carey's breast are real. Along with the email, he included photos that Kulkis suggests prove that her breasts are natural, because they "show a little natural sag."

Noting that the photos will not end the controversy alone, Kulkis has offered to let a group of ten members of the adult media fondle Carey's breast on the set of her first scene under her contract, so that the press "can make their own determination as to whether or not they're real or not."
Which is exactly what they did. Mary had her melons squozen by a panel of jurists from the adult video industry. Their consensus: the boobs were all meat, no filler. But you could hardly call the process authoritative.
Let's face it: breast implants can be difficult to detect, especially underneath skin and tissue, as long as they are underinflated. The most obvious tit jobs are always the ones where the implants and/or surrounding tissues have been stretched tight. And the scars can be hidden inside the navel nowadays -- no more smiley-face crescents under each nipple.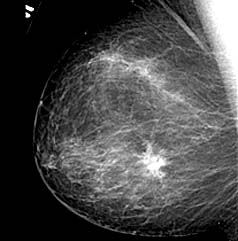 Anyway, what's suspicious here is the chosen methodology. If the starlet really wanted to establish beyond a shadow of a doubt whether there was anything man-made inside those breasts, all she's have to do is submit to a mammogram or a breast MRI. But no. They intentionally went with the most subjective, error-prone scheme.
As a result, Carey's trustworthiness remains in doubt. And until she submits to a definitive examination, her integrity will continue to be a question mark in any future political campaigns. And she swears there will be a next time:
"I may not win this election, but even if I don't, I believe some of my views would be very helpful. They're good ideas. I want to get them out there. And even if I don't win this time around, I'll be better prepared for the next election. If I don't win this one, I'll try again next time. Come next election, I'll be prepared."
timeline
| | |
| --- | --- |
| 7 Dec 2001 | Porn actress Mary Carey appears on the Howard Stern show, along with her retarded mother Judy and "slow" grandmother Lee. |
| 24 Sep 2002 | Porn actress Mary Carey submits to an IQ test on the Howard Stern show. Mary flunks, and is forced to clean Howard's toilet bowl with her hair. |
| 12 Dec 2002 | Porn actress Mary Carey submits to another IQ test on the Howard Stern show. Mary flunks, and is again forced to clean Howard's toilet bowl with her hair. |
| 9 Aug 2003 | Porn actress Mary Carey (Mary Cook) files paperwork at the LA County Registrar's office in Norwalk, California. |
| 9 Aug 2003 | Porn actress Mary Carey appears live on The Heartland with John Kasich on the Fox News Channel. |
| 13 Aug 2003 | Porn actress Mary Carey appears as a guest on The O'Reilly Factor with Bill O'Reilly. |
| 17 Sep 2003 | When asked at a press conference which gubernatorial candidate she would most like to have sex with, porn actress Mary Carey tells reporters: "I think Arnold is hot; I wish I'd been in that group sex thing he talked about in Oui." |
| 22 Sep 2003 | Porn actress Mary Carey appears on The Tonight Show with Jay Leno along with 80 other California gubernatorial candidates, including Gary Coleman. Carey gives the camera the finger when Leno jokes that she possesses "the only hole in the ballot that's already been punched." |
| 24 Sep 2003 | Porn actress Mary Carey tells reporters: "I stopped doing radio interviews because I'm sick of talking about my platform." |
| 7 Oct 2003 | Mary Carey (Mary Cook) receives 11,061 votes for governor of California, losing handily to Arnold Schwarzenegger (4,158,194 votes). |
---