---
Gary Coleman
"You know, somehow, some way, we need to get this state back in shape. Back in order. And someone like me, someone who's new and not a politico, [is] going to shake the trees and poke the bushes, and needs to be in there."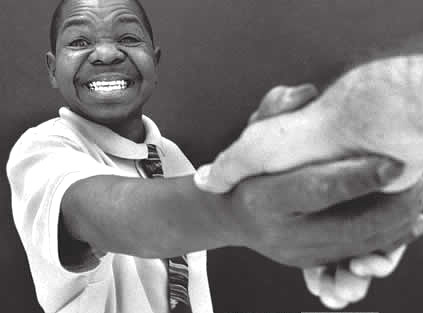 Everyone who's sick and tired of Gary Coleman, raise your hand. Every time you turn around, there he is with his fucking face plastered onto a new and different canvas. Hey look - someone's made a sticker out of him! Now he's an animated gif! We should totally make a unauthorized T-shirt containing Gary Coleman's likeness hovering atop the phrase BLING BLING in a funny pimp font and whore it out on Cafepress. Then let's Photoshop together a picture of David Hasselhoff clutching an Atari joystick poking out of Erik Estrada's police shorts. Is that all the food groups?
For twenty-five years, the world's been inescapably awash in shticky Coleman merchandise, and the ongoing California recall election confirms it won't be disappearing any time soon. The East Bay Express, an Emeryville-based alternative weekly has posted his $3,500 filing fee and performed all the prerequisite paperwork needed to get Gary Coleman on the governor's ballot. Sources at the paper insist Coleman's got a "Clintonesque" charisma - and on October first, Gary Coleman and adult film star Mary Carey will "debate" the issues on the Game Show Network. Gee, now there's a rivalry that goes way back. Who Wants to Be Governor of California? will award the maximum corporate campaign contribution allowed by law - $21,000 - to Mary or Gary.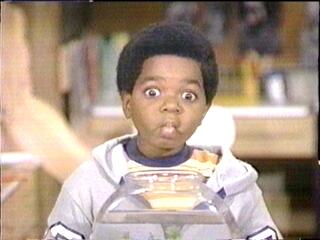 Everything from woeful (but legitimate) Diff'rent Strokes TV memorabilia to a smattering of recently manufactured (but faux-faded) Gary Coleman lunch boxes, bobbleheads and bumper stickers blossom across the American landscape like never before. The Coleman nostalgia-revival phenomenon is a relentless, dunderheaded machine with one singular purpose: to actively fellate and destroy everyone on Earth who insists upon celebrating the 1980s.
Constituents of every age group have latched on to Coleman's diminutive stature, impish bouffant, and chubby-cheeked, eternally pre-teen potato pout. One draining side effect is that today's top journalists are presently running "short" of ways to call attention to Coleman's height - which has held firmly at four feet, eight inches for two decades. NBC, The SF Chronicle, E! Entertainment News, TechTV, and Fox continue to describe the thirty-five year old Mr. Coleman as "pint-sized".
Before the man, there was the boy. Prior to his fifth birthday, Gary Wayne Coleman underwent three separate operations to conquer lupus nephritis - an inflammation of the kidneys and a disease of the immune system which proved advantageous to his acting career. At age nine, he could still pass for a five year old. He would never grow taller than 4'8", and to this day he remains on dialysis. He's experienced continued kidney malfunction and two failed transplants. Of his childhood celebrity status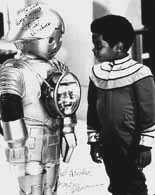 he muses, "once you're there, you're there until death. There's no release from the spotlight."
His parents steered him toward primarily black sitcoms like Good Times and The Jeffersons. After a string of excellent luck, they steered him toward primarily white sitcoms like Facts of Life and Buck Rogers in the 25th Century.
The first episode of Diff'rent Strokes aired in 1978. Theme song lyrics and music written by Alan Thicke. Conrad Bain plays multi-millionaire Phillip Drummond, who agrees to the death-bed wish of his housekeeper: he'll raise her two small sons as his own, welcoming 8-year-old Arnold (Gary Coleman) and 12-year-old Willis (Todd Bridges) into his lavish penthouse alongside daughter Kimberly (Dana Plato). This premise took place long before popular interracial gangbangery like the Blacks on Blondes franchise or Dogfart vidcaps. At the top of his form, Coleman was earning $70,000 a week. Since that time, he has yet to tackle a dramatic role meant to eclipse his portrayal of Arnold Jackson, and he runs the risk of being forever typecast as the little boy who takes off his shirt to play Tarzan with Maytag repairman (and WKRP in Cincinnati star) Gordon Jump.
Diff'rent Strokes #114: The Bicycle Man. Unaware that he's being lured into the carefully crafted trap of a child molester, Arnold eagerly agrees to perform a simple task in return for an overly generous reward from a "friendly" neighborhood merchant. With Gordon Hump as Mr. Horton and Shavar Ross as Dudley. (Cc, Stereo)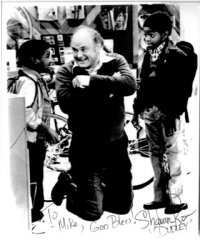 But Mr. Molester Man wasn't the only one misfondling Arnold's ample assets. Coleman's mother and father misappropriated his entire $3.8 million dollar trust fund, and Coleman joined the ranks of actors like Macaulay Culkin, successfully suing his own parents. Coleman won a judgment in court for $1,280,000.
Health and financial issues eventually forced Coleman to concede that he was indeed worse than broke - he was $72,000 in debt and addicted to the assembly of hobbyist model trains.

"It's part of who I am as a person. It is the best hobby I think there is anywhere. You can involve yourself in electronics, computers, puzzles... there's a lot of creativity and brain working. There's a lot to model trains that people don't realize."
Coleman has promised not to spend any money wooing voters. Nor will he accept any contributions or donations. He won't even actively campaign, which leads many observers to wonder if a "do nothing" candidate is really what California needs at this critical juncture. He's openly candid about his stance on marijuana: "There's been medical marijuana ever since there's been medicine. Nobody gets hurt, so why not? People still smoke marijuana, and they still go to work. There's no drug-related crime and robberies and murders in countries like, oh - lemme pull one out of my ass here - Denmark. Or Belgium."
He approves of homosexuals, but the only legitimate background resource presently available to voters (apart from Coleman's criminal record) is an examination of his conduct from 1978 to 1986 - the Arnold Jackson years. Let's take a look.
DS #5: The Spanking.
Arnold ignores warnings and continues to drop water balloons from the balcony.
DS #6: Goodbye Dolly.
When Arnold loses his favorite doll, he makes sure his misery is shared equally among members of his household.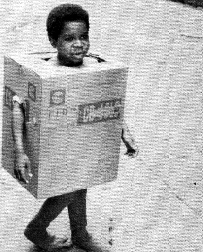 DS #7: The Trial.
Arnold places his goldfish in Mr. Drummond's hot tub.
DS #70: Almost American.
Arnold gets a "D" on his history test.
DS #99: Shoot-Out at the O.K. Arcade.
Arnold becomes addicted to destructive video games.
DS #104: Substitute Teacher.
Arnold tells a lie in order to ruin the career of an overly-conscientious teacher.
DS #123: Mr. T and mr. t.
Arnold acts like Mr. T for thirty minutes.
DS #131: Assert Yourself.
Arnold resigns as Dudley's campaign manager and declares his own candidacy for class president.
DS #165: Cheers to Arnold.
Arnold is discovered clutching a bottle of booze in the boys' bathroom.
DS #178: So You Want to Be a Rock Star.
Arnold lies about being an expert saxophone player.
DS #180: Arnold's Bad Rap.
Arnold lies about having gotten laid.
DS #185: Arnold's Tangled Web.
Arnold forges Mr. Drummond's signature so nobody will see his "F" in geometry.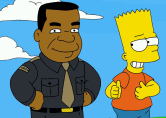 Lying, scheming, drinking and womanizing? These characteristics aren't altogether incongruous with post-dot-com California politics, but they're a revealing portrait nonetheless. Gary versus Gray, eh? Davis was a junior high school pass monitor, Coleman worked as a security guard. Davis thinks class size matters, Coleman believes size never matters. Davis is synonymous with rolling blackouts, while Coleman remains rockin' and blackilicious. Gary Coleman for Governor of California? He may not be a pro - but at least he's not a con. I'm talkin' bout choo, Davis!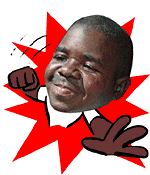 The real scandal took place July 30, 1998, while Coleman was shopping at a uniform supply store for a bulletproof vest,. A 205-pound woman named Tracey Fields started screaming at him for a personalized autograph. He obliged her, but that wasn't sufficient. As he walked away, she hollered, "Ain't you gonna put something nice on it?!" Coleman was annoyed and taken aback by her persistence. Court TV's Bryan Robinson has the scoop:
"I thought, 'That's really rude. I didn't like that,'" Coleman said. "But I didn't think anything of it. I told her, 'You really don't need that. You're just going to show it off to your friends. That's really my signature'"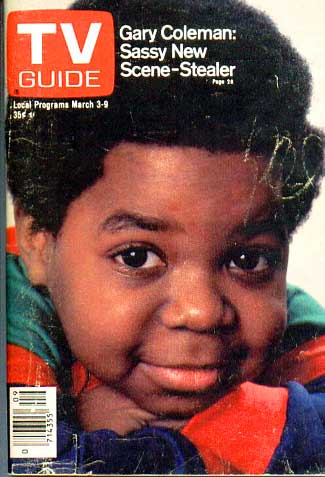 Coleman claimed Fields became irritated at his refusal to personalize the autograph. He said Fields told him he was a "rude badass." Coleman described Fields as being "very attitudinal" and having a "me-first, I'm-one-of your-fans attitude, as if I'm supposed to kowtow to her."

Coleman said he responded by telling Fields she herself was rude. Fields then told him that his "badass attitude" was the reason that he has never been a success as an adult actor, he said.

"She made sure that everyone in the store heard her," Coleman said. "It was hurtful. I thought to myself, 'This can't be happening...this can't be happening.' So I decided she didn't need an autograph. I felt she didn't deserve it."

At that point, Coleman said, he took the autograph, ripped it up and threw it in a trash basket. That was when the argument really became heated, he testified.

"She said to me, 'Well, you're just a little punk-ass bitch!'" Coleman told jurors. "I told her she was really rude, to which she said, 'Well, fuck you! I'm not going to watch you on television anymore!' And I said, 'No, fuck you, lady!"

Coleman testified that in retrospect, he should have left the store. He sensed things were getting out of hand. This "fan" was angry, and much larger, and looming ever closer toward him. He was nervous.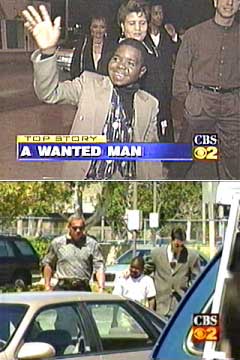 "She was getting scary. The hair on my neck was beginning to stand on its end," Coleman insisted. "She's a very large, buxom woman in my face....Her breasts were practically hitting me in the head. I'm 4-foot, 8 inches, 86 pounds of nothing."

"I was getting scared, and she was getting ugly," he recalled. "The volume at which she was shouting...she was shaking the ceiling tops. After she bristled and got a little huffy and blocked my path, I decided, well, she looks like she wants to slap the taste out of my mouth"
So Coleman punched her in the right eye. Shopkeepers claimed he continued pummeling the woman until an off-duty cop pulled them apart.
After a full day on the witness stand, Coleman abruptly (and tearfully) copped a plea, ending the trial. With his attorney Adam London clutching him on the shoulder, Coleman blew his nose as he received a 90-day suspended sentence, a $400 fine and a $1,180 penalty assessment fee. He was also ordered by Commissioner Ulysses Burns to take 52 anger management classes.
Will Governor Gray Davis receive a blackened eye as well? (In addition to the one he's already got, that is). Will a landslide win for Gary Coleman really result in smaller government? "I am worth more than any gold in any reserve," Coleman states. "I'm here, I'm alive and I'm going to survive this and any other atrocity that may come up in my life."
When asked by Howard Stern if he's had ever oral sex, an outraged Gary replied, "No! That's not a place for a young woman's face to be."
Timeline
| | |
| --- | --- |
| 8 Feb 1968 | Gary Coleman is born in Zion, Illinois. |
| 1973 | First kidney transplant. |
| 3 Nov 1978 | Diff'rent Strokes premieres on NBC television with the pilot episode, entitled "Movin' In." |
| 1984 | Second kidney transplant. |
| 23 Feb 1993 | Wins a $1.28 million court judgment against his parents and former manager. Coleman successfully argued they had misappropriated his $3.8 million trust fund. |
| 30 Jul 1998 | While shopping for a bulletproof vest at a uniform store in Hawthorne, California, Gary Coleman is approached for an autograph by bus driver Tracy Fields. Somehow things get ugly, and Coleman winds up socking her in the eye. |
| Jan 1999 | Former child star Gary Coleman tells Us magazine that he is still a virgin. |
| 4 Feb 1999 | Pleads no contest to punching an autograph seeker in 1998. |
| Jul 1999 | Taken into custody during a traffic stop for an outstanding warrant. Coleman failed to pay a $400 fine for punching an autograph seeker in 1998. |
| Aug 1999 | Files for bankruptcy in federal court at Los Angeles, claiming $72,000 in debts. |
| 19 Dec 1999 | The Simpsons episode BABF07 "Grift of the Magi": Gary Coleman guest stars as a security guard working at the secret headquarters of Kid First Industries. |
| 2 Nov 2000 | On an episode of the court show Judge Mills Lane, Gary Coleman is ordered to pay autograph seeker Tracy Fields $1,665 for her medical expenses. Afterwards, Coleman declares: "I hope to God to never run into another person like this." |
| 6 Aug 2003 | The Alameda County registrar of voters confirms that the East Bay Express has submitted 65 petition signatures and paid the $3,500 filing fee required to place Gary Coleman's name on the California recall ballot. |
| 7 Oct 2003 | Gary Coleman receives 14,122 votes for governor of California, losing handily to Arnold Schwarzenegger (4,158,194 votes). |
---