---
Nancy Reagan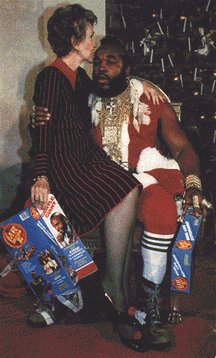 Born Anne Frances Robbins, renamed to Nancy Davis by a studio.
Wife of President Ronald Reagan. Ronald knocked her up before they got married. He called her Mommy. After he got Alzheimer's, she became his caretaker.
The last movie she appeared in was Hellcats of the Navy, which she starred in with Ronald.
Hired astrologer Joan Quigley, who had an alarming say in when the President would travel or meet with foreign leaders.
Just say No anti-drug campaign, which failed so miserably that drug use actually increased during her reign.
Guest-starred in an episode of Different Strokes with Dana Plato (now dead from an overdose) and the rest. Thus it may not have been the best choice of show for a lasting anti-drug message.
Undertook an expensive redecoration of the White House, in the midst of a major economic recession.
Had a mastectomy.
"A woman is like a teabag-- you can't tell how strong she is until you put her in hot water."
If you received a gift from the Reagans, it was probably a unwanted, retread gift that someone had already given them. This is Nancy's doing, not Ronald's.
Black people were not permitted in her parents' home.
Timeline
| | |
| --- | --- |
| 12 Dec 1983 | Nancy Reagan sites in Mr. T's lap, the only First Lady to have done so. |
| 2 Mar 1987 | "I don't think most people associate me with leeches or how to get them off. But I know how to get them off. I'm an expert at it." Spoken about Donald Regan. |
| 5 Jun 2004 | With his family by his side, former U.S. President Ronald Reagan dies from Alzheimer's disease and pneumonia complications at his home in Los Angeles, CA. Newly-widowed Nancy Reagan observes: "Ronnie's long journey has finally taken him to a distant place where I can no longer reach him." |
---