---
Mr. T
aka Lawrence Tureaud
"I am the best bodyguard because I'll take a bullet, I'll take a stab wound, I'll take a hit upside the head; I'm like a Kamikaze pilot. The President got shot because his men relaxed."

--Mr. T, September 1983 Playboy interview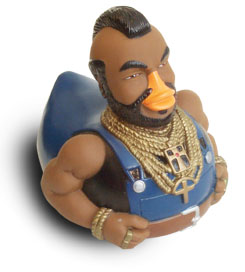 Born Laurence Tureaud, then Tero, then T.
Former bodyguard of Michael Jackson, Muhammad Ali, Leon Spinks, Steve McQueen, LeVar Burton, Diana Ross, and others.
Winner of the World's Toughest Bouncer contest. One of the events in the competition was dwarf tossing, since outlawed.
One of the three living members of the A Team.
Nancy Reagan sat on his lap in an awkward photo-op.
On the Stonecutter High Council.
Modeled his hair in Mandinka style, after he saw it in a National Geographic photograph.
A wide array of Mr. T merchandise exists, including but not limited to air fresheners, chewing gum, and a Mr. T celebriduck.
Tolerates no jibba jabba.
Timeline
| | |
| --- | --- |
| 21 May 1952 | Lawrence Tureaud born, southside Chicago. |
| 1957 | Father deserts the family. |
| 1970 | Changes name to Laurence Tero. |
| 1971 | Daughter Lesa born, to Phyllis Clark. |
| 1972 | Changes name to Mr. T. |
| 1982 | Wins World's Toughest Bouncer competition, show Games People Play. Participates in dwarf toss. |
| 28 May 1982 | Rocky III. |
| Jan 1983 | The A Team, aired until June 1987. As Sgt. Bosco "B.A." Barracus. |
| 12 Dec 1983 | Nancy Reagan sits in Mr. T's lap, the only First Lady to have done so. |
| 31 Mar 1985 | Wrestlemania, Mr. T and Hulk Hogan defeat Paul Orndorff and Roddy Piper. |
| 1986 | The Mr. T Experience (no connection to Mr. T) releases their debut album. |
| 1986 | Claiming they were aggravating his allergies, Mr. T take a chainsaw to more than 100 mature trees on his multi-acre estate in Lake Forest, Illinois. He has also claimed, at various times, that he did it "to piss off the white people" who shunned him in Lake Forest. He tells one of his neighbors in "Tree City, USA" that a chainsaw is "music to my ears." |
| 1995 | Diagnosed with eponymous T-cell lymphoma. |
| 2001 | Given all-clear to his cancer. |
| 29 Apr 2003 | Mr. T files suit against Best Buy for using his likeness in advertising without permission. |
| 2 Dec 2003 | Developers in Lake Forest, Illinois plant seedlings to replace the trees Mr. T cut down seventeen years earlier. |
---