---
Traci Lords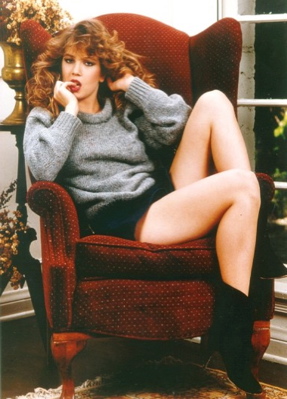 Traci Lords (May 7 1968 - )

"If you're sexy, everybody will love you. That's what I wanted."

Here is a young lady so perfect, so straight from God's own Heaven that developing anything remotely resembling an "uncomplimentary" biography of her would be next to impossible. What a babe. What a fox and a half, this Traci Lords. She's considered by many to be the most influential, competent underage porn star of the late twentieth century. Her very name inspires enthusiastic shivers of delight through anyone familiar with child molestation or popular culture of the mid-1980's.

This delicious dish of vanilla ice cream was born Nora Louise Kuzma, in Steubenville, Ohio -- but later moved to Lawndale, California with her mother and three sisters to escape an alcoholic father. While a high school student at Redondo Union, she ran away from home and had an abortion.

Then suddenly at age fifteen, she's the centerfold in the September 1984 issue of Penthouse magazine! What the fuck? How does that happen? This is the same issue which exposes would-be Miss America Vanessa Williams in a black and white lesbian pictorial. There's an interview with John Travolta, a feature on Boy George, rumors of a Penthouse Treasure Hunt -- and a Hyapatia Lee spread near the back, but in one shot she's poking what looks like a super-sharp fingernail up her rear end, so no thanks. Traci Lords sells this issue all by herself.

How does a teenager from Ohio fool a room of professional photographers, lawyers, agents and human resource professionals? She goes and lives with a man in his forties who pretends to be her stepfather. Together they visit Jim South's World Modeling Agency with a fake driver's license. Traci announces she's a newcomer to the business, discovered while sunbathing at Malibu Beach. She strips naked and demonstrates she isn't shy. Then she identifies herself as twenty-two year old Kristie Elizabeth Nussman. Reports indicate she also had a license made for a one miss Christie Lee Nussman, which suggests that even at the tender age of fifteen, Traci was working twice as hard to lick twice as many dicks.

Traci adapted her stage name from the character of Tracy Lord portrayed by Katherine Hepburn in The Philadelphia Story. Between the ages of fifteen and sixteen, Traci centerfolded for Oui, Hustler, High Society, and Swank, often appearing more than once in the magazine due to her tremendous increase in popularity. Among the photographers? Suze Randall, a woman whose name you see regularly but never care about. It goes without saying that owning any one of these magazines is now considered a felony, but nobody cares. Traci's layouts are totally killer and worth it.

At age sixteen, she was paid ten thousand dollars for four days' work on her first adult video, What Gets Me Hot. Her fuck-suck scenes with Tom Byron were stellar, propelling her to worldwide superstardom overnight. She was featured alongside all the biggest names in pornography from day one. She was literally everything a man could ever hope for. Make no mistake: it was not Traci's youthful appearance which made her so appealing, but her insane enthusiasm for sex, her voracious on-screen sexual appetite. Traci did straight and lesbian scenes with the confident brush strokes of an Italian Renaissance painter. She performed until she was exhausted. When confronted with something as potentially mundane as a solo masturbation sequence, her attention to erotic detail was unparalleled. She had full round breasts, a totally fuckable face, and her ass was a delicious peach. Traci Lords had it all.

By the time she was eighteen, Traci had appeared in one hundred and seven adult films, usually under the influence of drugs or "managers". Each successive film grew incrementally more explicit, more jerkoffable, and more wonderful than the last. Great stuff. Four cocks all at once, big sloppy whatnots all over the face, and that tried-and-true patented fuck-me stature which these days can only be fully experienced outside the United States. Eighteen is great-teen in European brothels, but I guess it's just not for America.

One side effect of so many people wanting to fuck Traci was all the nosy, snoopy, busybody no-goodniks who felt like getting to know her. Traci's background was investigated in 1987, yielding a storm of further curiosities. She was nineteen and legal when her true date of birth was finally revealed, but the fallout was devastating. Her numerous agents, her dozens of video producers, her hundreds of distributors were immediately prosecuted. Hundreds of thousands of tapes were yanked off shelves by desperate adult book store owners unable to afford serious accusations of trafficking child pornography. For the next four years, police agents, church groups and concerned parents would regularly conduct "raids" of porn shops, hoping to find stray Traci tapes the owners had missed. Meanwhile, normal healthy adult pornography enthusiasts were doing the same thing.

Traci Lords has experienced great success in all areas of modern popular culture. She has sold numerous record albums, appeared in the dramatic television series The Profiler and the SciFi Channel's First Wave. Her acting talent is legitimately showcased in multiple films by John Waters (Serial Mom, Crybaby).

But she would not suck dick in this town again. Congress responded swiftly, enacting harsh legislation to combat pedophilia and its commercial exploitation. A law signed by President Reagan on October 18, 1986 imposed new and specific obligations on producers of explicit sexual conduct. When you see mandatory references to "Section 18 U.S.C. 2257" or "Section 75 C.F.R" during the opening credits of any one of your many beat-off tapes or digital video discs, you're looking directly at a silent homage to the legacy of Traci Lords.
---