---
William George Bonin
The Freeway Killer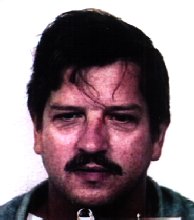 William Bonin kidnapped, robbed, raped, tortured, and killed 21 teenaged boys; he was ultimately convicted of 14 murders in two separate trials.

In 1972, Bonin was officially declared disabled. The Vietnam veteran claimed to be unable to work, due to severe mental illness. So the government began sending him a monthly check for about $500. Then in 1982, Bonin was tried and convicted of the rape, torture, and murder of 10 young men in Southern California. But the wheels of justice turn slowly, and it wouldn't be until 1996 that Bonin was finally executed.

During those intervening 14 years, the government mistakenly continued to send disability checks after Bonin's multiple homicide conviction. The Social Security Administration mailed a total of $79,424 in assistance to his last known address -- his mother's house in Downey, California. She used the money to pay off her mortgage. None of this came to light before the execution. After the error was discovered, the family agreed to repay the government.

In 1979, Bonin began murdering young male hitchhikers and dumping their bodies around the Southern California freeway system. He had some accomplices, who ultimately informed on him. Bonin's defense attorney was Earl Hanson, who had previously defended John Holmes during the Wonderland murder trial.

On February 23, 1996 William Bonin was the first person California put to death by Lethal Injection. His last meal had included two pepperoni and sausage pizzas, three servings of coffee ice cream, and fifteen cans (5.3 liters) of Coca-Cola. It can safely be assumed that Bonin was either a huge Coke drinker, or he just needed 500mg of caffeine to make the most of his final hours... which he spent watching Jeopardy.
---