---
John Holmes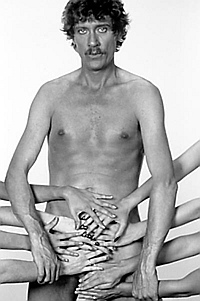 The most precise measurement ever given for the length of John Holmes' penis was 12.58 inches, cited in SCREW magazine. But 20.51% of that figure was pure hype.

In a 1989 Rolling Stone article, ex-wife Sharon recalled John's self-amazement when he measured his penis in 1968: "It goes from five inches all the way to ten. Ten inches long! Four inches around!" That night, to Sharon's dismay, he revealed his intention to become a porn actor.

He became the all-time world's greatest. During his career, Holmes starred in 3,000 films and fucked hundreds of porn actresses, including Seka, Linda Lovelace, Marilyn Chambers, and Cicciolina.

He got hooked on drugs, primarily cocaine, which eventually rendered him incapable of performing. He was always late to the set, and when he finally did show up he'd disappear into the bathroom for hours at a time. After which point, of course, he was scatterbrained and unable to maintain an erection. Then he stopped getting roles.

During the height of his drug addiction, Holmes went broke and turned to crime to support his habit. He stole luggage from the baggage claim at LAX, sold things he purchased with his wife's charge cards, broke into cars. Somewhere around this time, John got involved with alleged drug dealer Eddie Nash, who had an unsavory reputation. According to John's wife Laura: "He was an awful man... John told me he used to leave the bathrooms without toilet paper, then offer the young women cocaine if they'd lick his ass clean."

In June 1981, four of John's acquaintances raided 8763 Wonderland Avenue, Eddie Nash's house. They forced Nash at gunpoint to open a floor safe, which yielded more than $100,000 in cash, $150,000 in jewelry, eight pounds of cocaine, a kilo of heroin, and 5,000 quaaludes. Nobody died that night.

When the gang returned to their Laurel Canyon hideout, Holmes was waiting for them. He freebased some of the coke and then they cut him in. He received a paltry $3,000 for having unlocked Nash's back door the night before. A few days later, Nash somehow caught up with Holmes and persuaded him to confess. Then they all went to Laurel Canyon and brutally murdered everyone in the hideout.

John was tried in 1982 for his involvement in the Wonderland slayings. Holmes was defended by attorney Earl Hanson, who later represented serial killer William G Bonin.

Died of AIDS in March 1988. Diagnosed HIV-positive in 1986, but continued to make films without informing any of his partners of his status.

Claimed 14,000 fucks, though the actual number is probably in the low thousands. Starred in 2,000 porno films.
Timeline
| | |
| --- | --- |
| 8 Aug 1944 | John Curtis Estes born on the kitchen table, Ashville, Pickaway County OH. |
| 1946 | Mother marries Edward Holmes. |
| 1948 | Attends Milport Chapel Church Sunday School for twelve years. |
| 1956 | Deflowered by a 36 year old woman. |
| 1960 | Joins the U.S. Army at age 16, stations at Nuremberg: "The Army was good for me. I can't honestly say that it taught me any morals or sense of responsibility. I had been raised with those qualities. What it taught me was that there was a whole world of sex I had yet to discover." |
| 1963 | Discharged from Army. |
| Aug 1965 | Marries nurse Sharon Gebenini. |
| c. 1966 | Appears uncredited in gay porno reels, sometime in the mid-1960's. |
| 1968 | Measures his penis, according to legend and interviews. But by this time he had already appeared in pornos. |
| 1969 | Appears in first credited porno, Body Lust. |
| May 1972 | Chuck Holmes (later founder of Falcon Entertainment) distributes their first mail order flyer for a selection of gay 8mm films, one of which stars John Holmes. |
| c. 1972 | Arrested for pimping and pandering. Becomes a stoolie to escape the charges. |
| 1973 | Private Investigator Johnny Wadd makes his film debut. |
| Jun 1975 | "My favorite recipe is Stuffed Veal a la Oscar. Oscar is asparagus with cream sauce on top of a very thick cut of veal that's sliced like a vagina. And you stuff it with stuffing, and you sew it together and bake it. And then when it's ready, you pour this Hollandaise asparagus on top. And it's magnificent." Screw, #329. |
| 1976 | Befriends (in a most nonwholesome manner) 16 year old runaway Dawn Schilling, lets her move in with John and his wife. |
| 1981 | Arrested for theft (stealing a computer.) |
| 29 Jun 1981 | Wonderland robbery. |
| 4 Dec 1981 | Arrested over Wonderland robbery. |
| 20 May 1982 | Charged with murder, with regards to Wonderland house. |
| 1982 | Wife Sharon divorces John while he's in jail. |
| 16 Jun 1982 | Acquitted of Wonderland charges. |
| 22 Nov 1982 | Released from jail after contempt charges (over his silence at trial.) |
| Jun 1983 | John Holmes to Al Goldstein at the Consumer Electronics Show in Las Vegas: "You're gaining weight, Goldstein. You should be on the same diet I'm on, the cocaine diet." |
| 1983 | Makes gay porno with Joey Yale, who definitely has AIDS at this time, The Private Pleasures of John C. Holmes. |
| 18 Apr 1986 | Joey Yale dies of AIDS. |
| 1986 | Tests HIV positive. Continues to fuck like a bunny. |
| 1987 | Marries former porn actress and hooker Laurie Rose aka Misty Dawn, at the Little Chapel of the Flower in Las Vegas. John's reaction to a friend: "I think I'm married. I'm all fucked up. I'm not sure, but I've got a ring, Laurie's with me and I think we're married." Laurie's specialty: Anal. |
| 13 Mar 1988 | John Holmes dead from AIDS. |
| 12 Oct 1997 | Paul Thomas Anderson's Boogie Nights premieres, roughly based on the life of John Holmes. |
| 1998 | Film Wadd: The Life and Times of John C. Holmes. |
---