---
Hugh Grant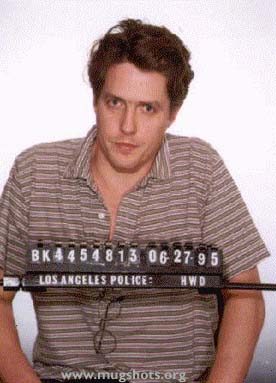 British movie star who received a blowjob in a parked automobile from hooker Divine Brown in exchange for $45. The LAPD swooped in on the pair during the course of the oral copulation and arrested them both. He was ultimately fined $1,180 and placed on probation for two years.

But the criminal penalties were of practically no consequence. Of utmost concern was handling the unsavory press that could cripple his new film, Nine Months. Unlike most celebrities facing similar scandals, Grant was forced to take the time-untested path of high-profile public apologies.

He started his quest on The Tonight Show. His appearance drew in a huge audience -- in fact, the episode's ratings completely blew away Letterman, after which point Leno consistently beat Dave.

And he made lots more appearances. As he explained to Larry King's audience:
"I could accept some of the things that people have explained, 'stress,' 'pressure,' 'loneliness' -- that that was the reason. But that would be false. In the end you have to come clean and say, 'I did something dishonorable, shabby and goatish.'"
Timeline
| | |
| --- | --- |
| 9 Sep 1960 | Hugh John Mungo Grant born, London. |
| 1986 | Dates actress Elizabeth Hurley until 2000. |
| 9 Mar 1994 | Four Weddings and a Funeral. |
| 27 Jun 1995 | The LAPD arrests streetwalker Divine Brown for giving British film star Hugh Grant a blowjob. To be fair, they also arrest Grant for receiving said blowjob. |
| 10 Jul 1995 | Hugh Grant appears on The Tonight Show and apologizes to the public for being a whoremonger. |
---