---
Jerry Lewis
Hey laaaaaadyyyyyyy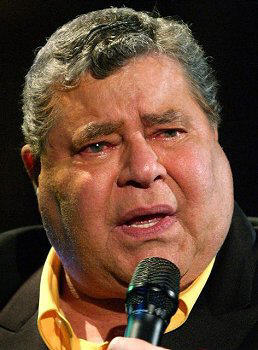 Amazingly, Jerry Lewis was funny, once. The French love him, and we hate that. Understandably it's the old Lewis they love, the Lewis of Lewis and Martin and Artists and Models. Groundbreaking in a way, Lewis brought vaudevillian slapstick to both the screen and the stand-up stage, one of the few people who can pull it off so cleanly. But that's all gone, now.

As a good career in movies tapered off, Lewis in 1972 completed the film The Day the Clown Cried. We would love to see this film, but it was never released, and likely will never be released. As to why, let's go over the plot: Clown, Helmut Doork, played by Lewis after a grapefruit starvation diet in which he lost 35 pounds, performs an Adolf Hitler impersonation that lands him in the hands of the Gestapo. Once jailed, Helmut forms a bond with the children as a performer, and camp managers convince him to lead the group into the gas chambers at Auschwitz, Pied Piper style. Though he does not have to, he follows them in, and they all die laughing together. Fin.

The most brilliant film ever conceived, or negatives that oughtn't see the light of day? Current state of the legal limbo: Neither Lewis nor the producer actually owned the rights to the script, which expired after a $50K payment was not made. No other parties involved want the film released -- for obvious reasons, by now. Lewis won't talk about the project any more, though for a while he fought valiantly for Clown's release. Harry Shearer claims to have seen it, writing in now-defunct Spy Magazine... "This movie is so drastically wrong, its pathos and comedy are so wildly misplaced, that you could not, in your fantasy of what it might be like, improve on what it really is." Thinking optimistically, Clown might be brilliant competition for Plan 9 From Outer Space.

And on the subject of Crimes against Humanity, Jerry is the host of an annual Labor Day weekend atrocity known as the Jerry Lewis Muscular Dystrophy Telethon, twenty-one hours of pure television hell. With Lewis's distinguished history of telethon involvement starting in the late 1940's, the Dystrophy telethon continues to run uninterrupted year after painful year. Still it attracts luminaries; in the 1970's, even Elvis made an appearance [If you have the exact date of this, send it in for our timeline below.] How anyone can bear to watch is a mystery. Maybe it's a Middle America thing.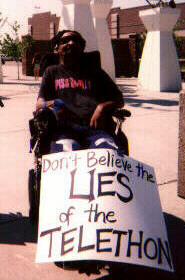 Indisputably, Jerry Lewis has done much to raise money for muscular dystrophy research. $1.8B raised speaks very loudly by any measure. But he has a very dim view of the people he is actually purporting to help, referring to them as "half persons" in an infamous 1990 gaffe. A growing group of the handicapped have organized themselves and protest against the fact that this man, so ugly inside, has somehow been made their "spokesman." And Lewis' bigotry is not limited to the crippled -- he considers women to be baby producing machines. Read the quote. No amount of apology is sufficient.
Now to Lewis's physical condition. Back in the day, Lewis was a scrawny, somewhat lanky fellow. Now he's William Bennett inflated to 60 PSI, grotesquely bloated from prednizone steroid he takes for his pulmonary fibrosis. This is only the last in a series of interminable health crises -- diabetes, prostate cancer, spiral meningitis, back pain -- and it seems to go hand-in-hand with Lewis's several-decades loss of funny. Either STFU, or make way to a glue factory, stat.
It is difficult to obtain any information on Jerry's family life. His son Joseph is alleged to have stated, "There are two sets of Jerry's Kids. Those physically crippled by a dreadful disease, and those emotionally crippled by a dreadful father." Given his statements regarding cripples and women, and the longtime unnecessary estrangement from Dean Martin, what is one to speculate?
It's sad to be so harsh. But Jerry Lewis is an ass. Just in case we weren't clear.
Timeline
| | |
| --- | --- |
| 16 Mar 1926 | Joseph Levitch born to Daniel Levitch and Rae Brodsky, Newark NJ. |
| 1937 | Jerry Lewis deflowered by a stripper procured by his father. |
| 1941 | Expelled, Irvington High School, Irvington NJ. |
| 3 Oct 1944 | Marries Patti Palmer. |
| 31 Jul 1945 | Son, Gary Lewis, born. |
| 25 Jul 1946 | Partners in an act with Dean Martin. |
| 1950 | Adopts a son, Ronald, who was born in 1949. |
| 25 Jul 1956 | Last club appearance with Dean Martin, at the Copacabana. |
| 1960 | Visit to a Small Planet (a short story by Gore Vidal.) |
| 4 Jun 1963 | The Nutty Professor. |
| 7 Nov 1963 | Appears uncredited in It's a Mad Mad Mad Mad World. |
| 1964 | Son, Joseph, born. |
| 20 Mar 1965 | An impromptu backflip onstage at Las Vegas Sands casino yields temporary paralysis and a lifetime of back pain. |
| Sep 1966 | First Jerry Lewis Telethon as it is known today, though Jerry has been involved with telethons since 1949, when he participated in a local one in New York City. He has also been involved with MDA since about that time, and was instrumental in its founding. |
| 1972 | The Day the Clown Cried, never released. |
| Sep 1972 | John and Yoko appear on the 1972 Jerry Lewis Telethon. |
| 1974 | Begins a four-year addiction to painkiller Percodan. Lewis claims not to remember very much of these four years. |
| 9 Jun 1976 | Unannounced, Frank Sinatra brings Lewis's former partner Dean Martin onstage at the 1976 Jerry Lewis Telethon. |
| 1977 | Nominated for a Nobel Peace Prize. Note that this is in the time frame Lewis considers his memory hazy. He considers this his "shining moment." |
| 1978 | Undergoes ulcer surgery after Lewis collapses. |
| Sep 1980 | Jerry and wife Patti divorce. |
| Dec 1982 | Declared clinically dead, after a heart attack. A bypass operation follows. |
| Oct 1982 | Jerry and wife Patti divorce. |
| 13 Feb 1983 | Marries Sandra (SanDee) Pittman. |
| 3 Jul 1985 | Dr. Emmet Brown, in Back to the Future: "Ronald Reagan? The actor?! Who's Vice President, Jerry Lewis?" |
| 2 Sep 1990 | "That steel imprisonment that long has been deemed the dystrophic child's plight... For them there's additional indignities of being dressed, being fed, being everything they wouldn't have to be if only they had use of their hands... I realize that my life is half, so I must learn to do things halfway. I just have to try to be good at being half a person." Parade magazine. |
| Sep 1991 | During the 1991 Jerry Lewis Telethon: [If someone is diagnosed with ALS] "You might as well put a gun in your mouth." |
| 1992 | Jerry Lewis diagnosed with prostate cancer. |
| Sep 1993 | Leslie Bennett in Vanity Fair publishes a scathing article, "Jerry vs. The Kids." |
| Jan 1994 | Stalker Gary Benson demands entry to Jerry Lewis's residence, claiming to be armed with a gun. |
| May 1995 | Jerry Lewis's stalker, Gary Benson, pleads guilty to a count of aggravated stalking. Sentenced to probation, which turns into six years prison after continued stalking incidents. |
| 25 Dec 1995 | Dean Martin dies. Lewis, long estranged from Martin, is devastated. |
| 1999 | In Australia, contracts spiral meningitis. |
| Feb 2000 | "I don't like any female comedians... A woman doing comedy doesn't offend me, but sets me back a bit. I, as a viewer, have trouble with it. I think of her as a producing machine that brings babies in the world." |
| Apr 2000 | Stalker Gary Benson sends Jerry Lewis a letter: "Dear Jerry. Your dead. Your friend, Gary Benson." Benson's fingerprints are found on the letter. Postmark Casper, WY. |
| 20 May 2001 | Jerry Lewis, in an interview with Martha Teichner broadcast on CBS: "I'm telling about a child in trouble. If it's pity, we'll get some money. You don't want to be pitied for being a cripple in a wheelchair? Stay in your house." |
| 4 Aug 2001 | Jerry Lewis's stalker, Gary Benson, dies in prison. He was scheduled for trial on November 12 for continued harassment against Lewis. |
| Apr 2002 | Attempts to commit suicide in bathroom of his home. His daughter, Dani, stops him. |
| Apr 2002 | Undergoes surgery to have a device planted in his back to relieve lifelong pain. |
| 8 Sep 2002 | Collapses backstage at the Palladium in London, according to a Press Association report quoting Steve Green. |
| 12 Mar 2003 | Ralph Garman, a Jerry Lewis impersonator working for KROQ 106.7 FM, impersonates Jerry Lewis in a phone call to French Prime Minister Jacques Chirac, where they discuss Saddam Hussein and Iraq for eight minutes. Lewis is considering a lawsuit. |
| 13 Oct 2003 | Jerry Lewis checks himself into a Las Vegas rehab center to break his steroid addiction. |
| 2 Nov 2003 | The Simpsons episode EABF21 "Treehouse of Horror XIV": Jerry Lewis plays the voice of Professor John Frink Sr., a reanimated corpse who has won the Nobel Prize. |
---