---
Frank Sinatra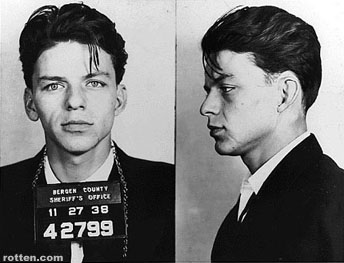 Singer, actor, Chairman of the Board. It's Frank's world, we just live in it.
Huge support of John F. Kennedy.
Slept with Marilyn Monroe, Ava Gardner, Kim Novak, Juliet Prowse, Judith Exner.
Close personal friend of Ronald Reagan, as well as Sammy Davis, Jr., Dean Martin, Don Rickles, and a bunch of mobsters.
Timeline
| | |
| --- | --- |
| 12 Dec 1915 | Francis Albert Sinatra born, Hoboken NJ. |
| 1956 | "Get your hand off the suit, creep." To House Speaker Sam Rayburn, at the Democratic National Convention, as Rayburn requested Sinatra sing The Yellow Rose of Texas. |
| 1963 | Asked about his religious beliefs, Frank Sinatra tells Playboy magazine: "I'm for anything that gets you through the night, be it prayer, tranquilizers, or a bottle of Jack Daniels. But to me religion is a deeply personal thing in which man and God go it alone together, without the witch doctor in the middle." |
| 1966 | Glen Campbell performs as a session musician for "Strangers in the Night." Sinatra inquires: "Who is the fag guitar player?" |
| 1966 | "I finally found a broad I can cheat on." Commenting on wife Mia Farrow. |
| 6 Nov 1969 | Manson Family member Susan Atkins tells her cellmate that Steve McQueen, Richard Burton, Tom Jones, and Frank Sinatra are on their "death list." |
| 1974 | After a scuffle with reporters at the Melbourne Australia airport, Sinatra later describes the journalists as "bums," "parasites," "hookers," "pimps," and "a bunch of fags." |
| 2 Jul 1978 | Dean Martin roasts Frank Sinatra. |
| 23 May 1985 | President Ronald Reagan personally honors an unlikely duo with the Presidential Medal of Freedom: Frank Sinatra and Mother Teresa. |
---