---
Marilyn Monroe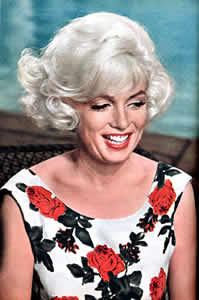 Norma Jeane Mortensen.

Centerfold in the debut issue of Playboy magazine.

Pornographer Hugh Hefner owns the crypt adjoining Monroe's.

Slept with Joe DiMaggio (husband), John F. Kennedy, Robert F. Kennedy, Frank Sinatra, Peter Lawford, and mobster Sam Giancana.

Deborah Gould asked ex-husband Peter Lawford, how Marilyn died. Answer: "Let's just say, Marilyn took her last big enema." Pathologist's report: "The colon showed marked congestion and purplish discoloration."

Committed suicide, or so the story goes.
Timeline
| | |
| --- | --- |
| 1 Jun 1926 | Norma Jeane Mortensen born, Los Angeles General Hospital, to Gladys Baker and unknown father. |
| 1934 | Mother Gladys admitted to rest home, Santa Monica CA. |
| 1937 | Grace McKee is legal guardian of Marilyn. |
| 19 Jun 1942 | At age 16, marries aircraft worker James Dougherty. |
| 1944 | Husband James Dougherty joins the Merchant Marines, who is assigned to the South Pacific. |
| 17 Jul 1946 | Screen test at 20th Century Fox. |
| 26 Aug 1946 | Signs a $125/wk contract with 20th Century Fox. |
| 13 Sep 1946 | Divorces James Dougherty. |
| 14 Jan 1954 | Marries baseball player Joe DiMaggio. |
| 27 Oct 1954 | Divorces Joe DiMaggio. |
| 1951 | Meets Arthur Miller for the first time. |
| Jul 1953 | Gentlemen Prefer Blondes. |
| 1955 | Romantic involvement with Arthur Miller. |
| Jun 1956 | Arthur Miller divorces his wife. |
| 29 Jun 1956 | Marries Arthur Miller. |
| Mar 1959 | Some Like It Hot. |
| 20 Jan 1961 | Divorces Arthur Miller. |
| 1961 | Begins an affair with John F. Kennedy. |
| 21 May 1962 | Sings to John F. Kennedy: Happy Birthday, Mister President. |
| 4 Aug 1962 | Friend Johnny Roselli visits. |
| 5 Aug 1962 | Dies of a drug overdose. |
---