---
Johnny Cash
The Man in Black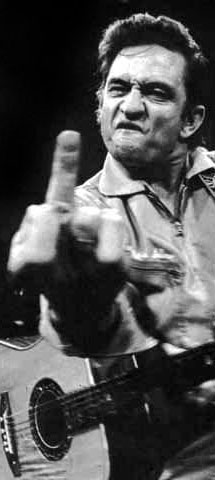 Johnny Cash is a giant. He towers over the American music scene as an elder statesman to Rock, Blues, Country and even Western music. His career spanned decades and his contributions left a long-lasting mark. The man lent his voice to politics and social problems even while wrestling with his own addictions.

Cash would perform many free concerts for the inmates at California state prisons including San Quentin and Folsom Prison. Columbia took the opportunity to record some shows which resulted in some classic Americana. When he played his first prison show at San Quentin, one of the inmates in the audience was Merle Haggard who was doing time for burglary.

In March of 1964, Cash recorded a song called "The Ballad of Ira Hayes," a true story about a Pima Indian who held the flag at Iwo Jima and despite his service, returned home to despair and death. The hit song was too politically topical for many radio stations and unlike modern C/W music's relationship to September 11th, station managers and DJs refused to spin it. Cash responded by taking on the stations a full-page ad in Billboard.

While under the influence in 1965, Cash drove a tractor into a lake behind his Nashville house and accidentally started a forest fire. The government fined Cash $85,000.00 for this bizarre incident. In the same year, he was arrested in Texas with amphetamines in his guitar case. He gets off easy: a suspended jail sentence and a $1,000 fine.

Over the years, Cash had started to depend on prescription drugs, amphetamines and barbiturates for work and for play. For 1967, what started out as a lost weekend turned into a lost year. June Carter and the power of Christianity are the two main forces credited for stemming his drug abuse problem.

In 1970, Cash was asked by Richard Nixon to perform at the White House.

During the 1970s and 1980s, Cash received less attention and airplay. His recording contract was dropped by Columbia but picked up by Mercury. In 1994, Johnny Cash got together with a producer named Rick Rubin to produce the critically-acclaimed American Recordings album. The work was stripped-down with just Cash and his guitar playing his songs and material by Leonard Cohen, Kris Kristofferson and Tom Waits.

Johnny Cash died on September 12, 2003 at the age of 71 due to complications from diabetes that resulted in respiratory failure.
Timeline
| | |
| --- | --- |
| 26 Feb 1932 | J.R. Cash is born in Kingsland, Arkansas. |
| 26 Feb 1942 | Carrie Cash gives her son his first guitar for his 10th birthday |
| 4 Dec 1956 | The Million Dollar Quartet: Jerry Lee Lewis, Elvis Presley, Carl Perkins, and Johnny Cash jam at Sun Studio. |
| 1 Jan 1960 | First free show at San Quentin Prison in California. |
| 25 Mar 1963 | "Ring of Fire" recorded in Nashville. |
| 5 Oct 1965 | Arrested in the El Paso, Texas airport en route to Mexico with drugs in his guitar case. Customs officals charge Cash with possession of amphetamines. He receives a suspended jail sentence and a $1,000 fine. |
| 13 Jan 1968 | Folsom Prison, California concert is recorded. |
| 17 Apr 1970 | Performs at the White House at the invitation of Richard M. Nixon. |
| 15 Jan 1992 | Inducted into the Rock and Roll Hall of Fame. |
| 12 Sep 2003 | J.R. Cash dead at 71 due to complications from diabetes that resulted in respiratory failure. |
---