---
The Muppet Show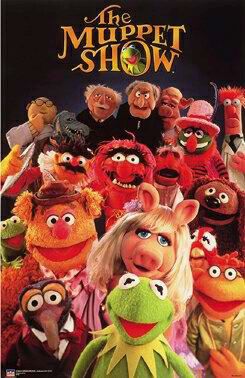 Muppets and Muppetry are the strange combination of keen design, googly eyes, lovingly crafted plastic, foam, rods, fuzzy eyebrows and a funny, unique personality in puppet form. Jim Henson's The Muppet Show was a popular television program featuring hundreds of Muppets and, now and then, some humans. The broken-down vaudeville experience usually consisted of a famous guest star, at least one musical number, skits and time spent backstage. The CBS show was a hit and lasted five seasons, a total of 120 episodes, from 1976 to 1981.

Muppets have their origins in the 1950s. The strange creatures debuted on a local Washington D.C. morning show and went on to appearances in variety shows and commercials. Rowlf the Dog, Cookie Monster and Kermit the Frog all pre-date the 1976 premiere of The Muppet Show. Muppets also make up a substantial percentage of the cast of Sesame Street.

The variety show attracted many popular guest stars including Vincent Price, Meatloaf, Steve Martin, Mummenshanz, Danny Kaye, Sir Dudley Moore, Sir Roger Moore, Sir Elton John, Debra Harry, John Cleese, Peter Sellers, Richard Pryor and Johnny Cash. The Muppet Show is related to Sesame Street in that both are Henson creations and both have the ability to generate an astonishing amount of crap. Products include books, stuffed animals, feature films, DVDs, toothbrushes, magazines, records, software and what is now cubic tons of miscellaneous branded debris buried in landfills around the world.

In 2002, Kermit found himself on ABC Television's The Jimmy Kimmel Show. Kermit was his usual good-natured self, making jokes about Snoop Doggy Dogg and managing to avoid discussing some of Snoop's more interesting hobbies such as Girls Gone Wild and marijuana use.

The movie Meet the Feebles showed muppets in a decidedly different light, having sex and shooting smack. The film was directed by Peter Jackson who also directed Dead Alive and the Lord of the Rings trilogy. The puppets in Feebles were quite different from the Muppets, so don't rent this expecting to see Miss Piggy and Kermit fucking.
Timeline
| | |
| --- | --- |
| 1954 | Jim Henson's first puppet/things appear on The Junior Good Morning Show, a Washington, D.C. station. The Muppets are rounded out by Pierre (a French rat) and a lumpy green thing that eventually becomes Kermit the Frog. |
| 11 Oct 1956 | The Muppets appear for the first time on network tv courtesy of The Steve Allen Show. |
| 1962 | Rowlf the Dog appears in a Purina dog food commercial. He continues to appear regularly on variety shows in the 1960s. |
| 10 Nov 1969 | First airing of Sesame Street appears on PBS. |
| 19 Mar 1975 | A pilot called The Muppet Show: Sex and Violence is shown on ABC. |
| 29 Jan 1976 | First episode of The Muppet Show premieres. |
| 22 Jun 1979 | The Muppet Movie is released, featuring Charles Durning, Bob Hope, Elliot Gould, Dom DeLuise, Madeline Kahn, Richard Pryor, Tele Savalas and Orson Wells. |
| 2 Apr 1979 | Kermit the Frog guest hosts NBC's The Tonight Show. |
| 17 Mar 1979 | The Muppets appear on 60 Minutes. |
| Aug 1980 | Kermit and Miss Piggy are featured on the cover of Life magazine. |
| 1989 | A merger between The Walt Disney Company and Henson Associates, Inc. is announced. The merger is eventually called off. |
| 16 May 1990 | Jim Henson dies. In a remarkably creepy way, Kermit the Frog delivers a eulogy at Henson's funeral. |
---