---
Bob Guccione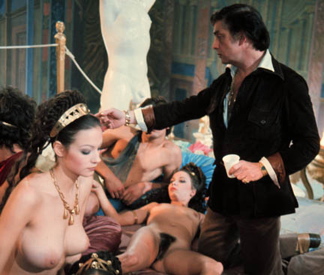 Publisher of Penthouse magazine who bankrolled the porn blockbuster Caligula. Reportedly, Guccione had planned to follow up with a pornographic biopic of Catherine the Great.

The September 1984 issue of Penthouse ran a pictorial of Miss America Vanessa Williams, which prompted her to resign the title. That same issue included a centerfold of 15-year-old Traci Lords.

In an effort to lobby the Unabomber, Guccione bought a full page in the New York Times. He offered a monthly magazine column which reaches far into the corridors of power: "Penthouse is one of the biggest and most quoted magazines in the history of our industry. For 25 years it was and continues to be the single, biggest selling magazine in the Pentagon. If it's attention you want, you'd be hard-pressed to do better." Guccione went further, saying "I am still your only friend in the media."

In January 1998, Guccione offered former White House intern Monica Lewinsky $2 million if she would sign over the exclusive rights to her story, and pose nude for Penthouse. For whatever reason, the two parties never struck a deal.

Not on speaking terms with at least two of his children.
Timeline
| | |
| --- | --- |
| 17 Dec 1930 | Robert Charles Guccione born, Brooklyn NY. |
| 1952 | Daughter, Tonina, born. |
| 1965 | Penthouse magazine (London edition) |
| 1969 | Penthouse magazine (U.S. edition) |
| 1971 | In film The Magnificent Seven Deadly Sins, plays a pornographer (Gluttony segment.) |
| Oct 1975 | A Reason magazine interviewer asks Bob Guccione whether the government ought to be able to place restrictions on the cover price of Penthouse. Guccione replies: "I don't think that Dick Nixon or Gerald Ford have the right, the intelligence, the know-how or the talent to control anything other than their own bowel movements, and even that is somewhat in doubt." |
| 1979 | Penthouse circulation: 4.7 million. |
| 21 Oct 1979 | Bob Guccione, publisher of Penthouse magazine, releases his porn epic Caligula. |
| 20 Jul 1984 | After Penthouse magazine published nude photos of Vanessa Williams (the first black Miss America), publisher Bob Guccione claims to be "a little bit tired of being the heavy in this instance. I didn't take her clothes off. She did." The September '84 issue generated a $14 million profit, the highest in the magazine's history. The centerfold is a fifteen-year-old Traci Lords. |
| Jul 1985 | Publishes nude black and white photos of Madonna. |
| 1986 | After release of the Meese Commission Report on Pornography, many newsstands and convenience stores remove Penthouse from their offerings. |
| 1987 | Parts ways with Robert Guccione Jr.'s operation of Spin magazine. No longer on speaking terms. |
| 1991 | Marries Kathy Keeton. |
| Jul 1994 | Publishes nude photos of newly elected Miss America, Vanessa Williams. The fallout from this forces her resignation. |
| 24 Jun 1995 | Bob Guccione of Penthouse magazine receives a letter in response to a standing offer to publish the work in his magazine. The author -- "FC" -- indicates he would rather publish the work in a more "respectable" publication. |
| Jun 1996 | Penthouse circulation: 1.1 million. |
| 19 Sep 1997 | Wife Kathy Keeton dies of breast cancer. |
| 1999 | Evicts son Anthony from Manhattan loft. Not on speaking terms. |
| 2002 | Penthouse circulation: 530,000. |
| 12 Aug 2003 | General Media, Penthouse's publisher, files for bankruptcy |
| 8 Nov 2003 | Resigns as chairman and CEO of Penthouse International, Inc. |
---